A lady identified as Clara Carolina has taken to social media to celebrate her 15 long years in academic pursuit.
According to her, it took 15 years to bag a bachelor degree in the university as she got admission in 2006 and recently graduated in 2021.
Explaining why she had setbacks in her academics, Clara revealed she had been wild and distracted in her earlier years; this made her lose focus.
Her grades dropped, and she lost sponsorship.
She finally left school when she lost financial support.
With new dedication and determination to succeed, she went back to school, restructured her life, and eventually graduated after fifteen years.
She wrote:
"I started undergrad in 2006 and finished in 2021.
I finished tho.
Thank you all for all of your support and words of affirmation. I definitely took the long road to graduation, like so many of you, and I am truly better for it.
Life happens, years pass. Shoutout to us, the tenacious ones. Long story short…I was wild and distracted in my twenties. I flunked out a couple times and lost financial aid which made it difficult to get back to school. When I was able to get back into school, my gpa was a 1.5.
It took a lot of commitment but when I went back I stayed on the deans list.
I got my AA at a community college, transferred to a 4 year school, founded , started the Black Wellness Project, and joined Alpha Kappa Alpha Sorority, Incorporated.
Whatever your goal, don't quit. Do your best and keep going. You got this".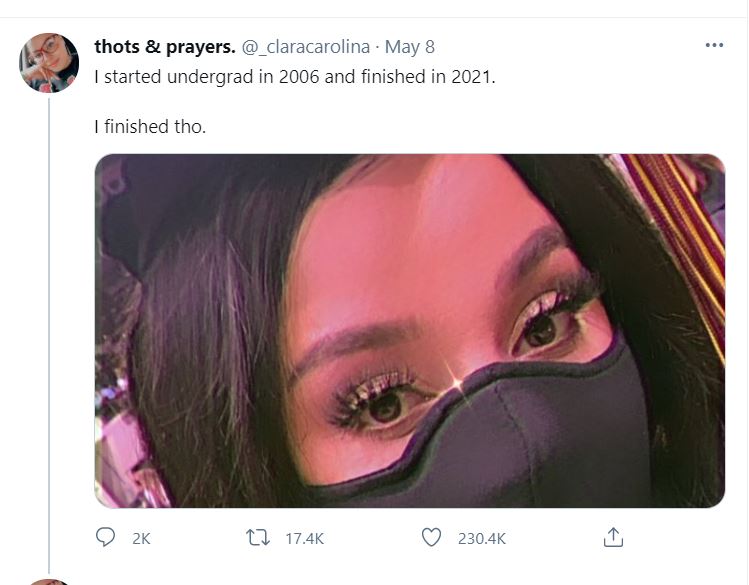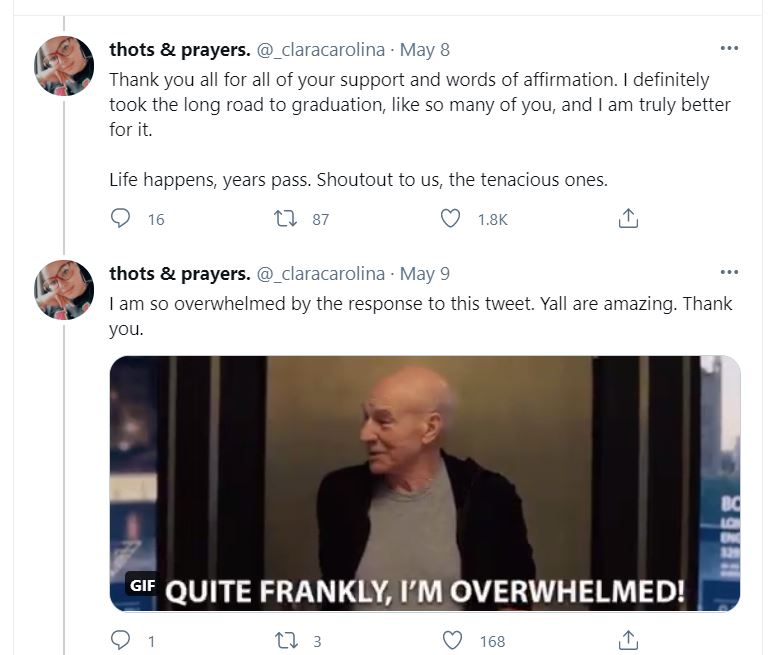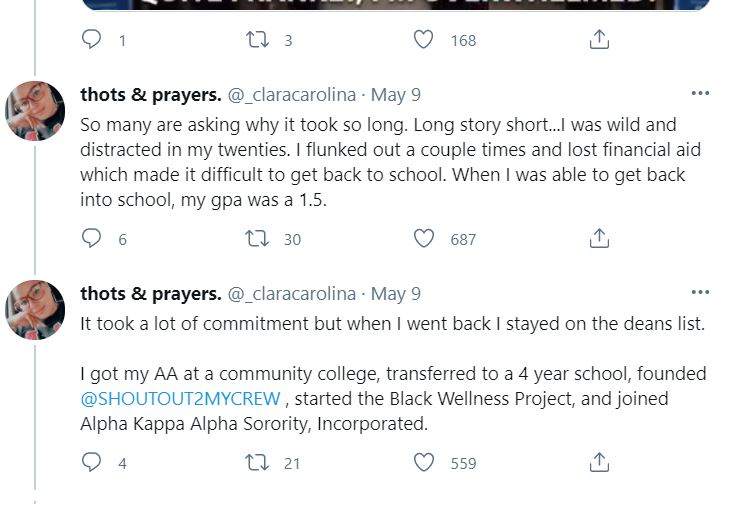 It is over a year since Nollywood actor Blossom Chukwujekwu and his wife Maureen Esisi ended their marriage. Still it seems Maureen is yet to get over the divorce as she wished she had children with her ex-husband.
Even though Maureen Esisi once claimed that leaving her marriage was her best decision, her mother's day celebration post on Instagram shows she still misses Blossom.
She wrote: I shuda Been a Mother of 2 by Now!!!!! Oh well, Happy future Mother's Day to me.
Reacting to the social media post, many social media users affirmed that Maureen Esisi is going through many challenges due to her divorce, and she needs love in her life.
Meanwhile others prayed for Maureen Esisi to find internal peace...
Misheck Nyandoro, a Johanne Marange Apostolic sect with 151 children from 16 wives, has revealed plans to add a 17th wife that will bear more children soon.
According to The Herald, the polygamist from Mbire Central of Zimbabwe said
"Mine is a project. This polygamy is a project that I have undertaken since 1983 and will end with my death. Whenever that day death visits, is when I will stop marrying and fathering children.
"I am planning on taking in my 17th wife this winter and the formalities are already being worked on.", .
He also defined polygamy as a scheme that is now yielding fruit because he regularly earns cash and goodies from his children and sons-in-law.
Leicester City midfielder, Wilfred Ndidi, has warned Manchester United that they will "give everything" to get maximum points in Tuesday's Premier League encounter.
The Foxes lost 4-2 to Newcastle United on Friday and are looking to bounce back against the Red Devils.
Ndidi admitted that the game at Old Trafford would be difficult, but he believes the Foxes can match Ole Gunnar Solskjaer's men who are second in the table.
"It's one of those games. We have to try and do our best to get something out of it. We've got three games left, so it's that part of the season where every point is really important," Ndidi told the club website.
"It's a tough game. Obviously, the last time we met, we...