News
Wole Soyinka warns Sahara Reporters to be more careful as its location is now public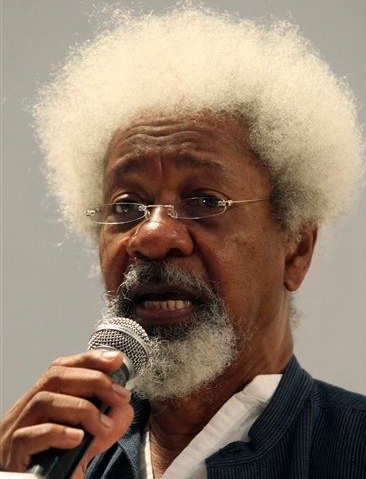 Nigerian playwright and poet, Wole Soyinka has warned citizen advocacy
platforms Sahara Reporters and Budgit, to be more careful now that its
location has been made public.
The event was the launch of a
citizen media lab, a collaborative project between Sahara Reporters and
Budgit, located at 13B, Isaac John Street, Ikeja GRA, Lagos.
Sahara Reporters, a citizen advocacy platform, has for years operated out of New York in the United States.
In his speech at the event, Mr. Soyinka said he was hopeful the media lab would be a genuine media centre.
"Let me congratulate you once again on the launching of this media centre," he said.
"I
hope it makes the media more careful, now that people know where to
come and find you and to deal with you when you go wrong, and I hope it
will be a genuine media centre, which means that when we stop by, we
would have a drink before we get to more serious tasks.
"I hope
the media, when they do their launch will not be like the launching with
which the nation was treated recently in Abuja," Mr. Soyinka said.
"I
think this nation, you and I, have been slapped in the face by some of
the disgusting reprobates that we know in any level of connection with
power," he added.
Omoyele Sowore, publisher of Sahara Reporters, thanked Mr. Soyinka for his presence at the launch despite his busy schedule.
Mr. Soyinka was later ushered into the centre, alongside other guests, to examine the facilities and launch the media lab.
Mr.
Sowore said the media centre would be different in outlook and
operation, adding that a spot for relaxation had been provided.
"I
also want to assure you that this media centre is different to the
extent that if you wait long enough, there will be palmwine available on
the other side of the centre…if you want to pour libation to the gods,"
Mr. Sowore said.
On his motivating factor, the Sahara Reporters
boss said he was disappointed in how young Nigerians have been lethargic
with the opportunity they have to change the narrative of the country,
adding that he was hopeful the centre would provide better platform for
them to vent their frustration.
Designed with graffiti-like
images of legendary Afrobeat musician, Fela Kuti, and late human rights
lawyer, Gani Fawehinmi, the media centre had graphic arts illustrations
chronicling civil resistance in Nigeria – beginning from the early
1960's to terminate at the 2012 Occupy Nigeria protest.
Also
speaking at the event, Seun Onigbinde, the creator of Budgit, said the
idea behind the centre was to build new tools to make democracy better
in Nigeria.
Mr. Onigbinde said the initiative would also build
capacity of young Nigerians with the desire to change narratives in the
media.
Ayo Obe, a social activist and human rights defender,
urged young Nigerians to persevere, be persistent and never give up in
the struggle to liberate Nigeria.
"Don't go away…don't give up," she counseled.
Musician and rights activist, Charles Oputa, on his part said the youth must leverage on social media to actualise real change.
Mr.
Oputa, popularly known as "Charley Boy", lamented the irony in of
Nigerians being afraid of the government rather than the government
being afraid of Nigerians.
He said the masses had been taken for a ride for far too long, urging them to resist further exploitation by politicians.
"Our mumu don reach last bus stop… Our mumu don do," he cried.