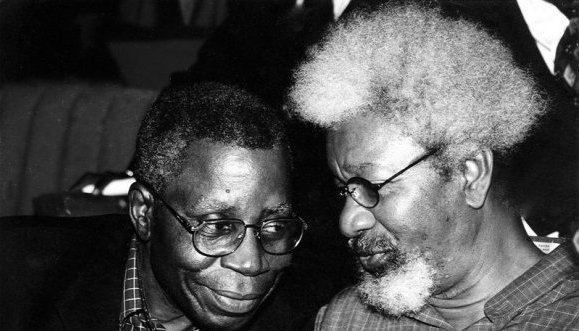 Bola Ige and Soyinka
Eldest child of the late Chief Bola Ige, Funso Adegbola, has spoken!
In a new interview with Punch newspaper, she talked about her late dad and more.
What was growing up like under prominent parents?
When I was in the nursery school, I was the only pupil whose mother was a lawyer. By 1977, she was a High Court judge and when I was in secondary school, my father was a commissioner. Despite all these, we were raised like children of ordinary people. We lived in Oke-Ado and when my father became a governor, we lived in Ososami.
These are not GRAs or high brow areas. I have friends among who are my colleagues in school. Prof. Wole Soyinka is Muyiwa's godfather and there are many other prominent people that we knew as children but it never got to our heads. I did not see myself as a special person because of my parents' status. I attended St. Anne's but my father could have taken me to International School, Ibadan which is expensive. My mother used to tell us that we were not rich but just comfortable. We visited the motherless babies' home to donate gifts to the children, so from a young age, I had a very strong consciousness that there were many children who are not privileged to have what we had as children.
As children of parents who were well exposed, did you speak local language at home?
My parents were strict about our mode of communication. It was in Yoruba. My parents told us that we should consider ourselves as Yoruba people. They said no matter how long we stayed abroad, it would not make us white people. We preserve our culture a lot.
Who between your parents enforced discipline in the house?
I came from a highly disciplined family. My mother was a disciplinarian but my father was the soft one.
How do you feel when your mind goes to the fact that several years after your father was murdered, the police have yet to catch the killers?
I feel very bad because I know what my parents stood for. They administered justice in their careers. My mother was a judge in the Court of Appeal where people got justice. My father voluntarily defended so many people in court without collecting money from them. It is painful that my father was murdered and he did not get justice. I will always feel bad towards the Nigerian government. They have not done well. If my father was not killed, my mother would not have died. She died the day after the star witness changed his evidence.
But I thank God that they were my parents. They raised us in the way of the Lord and to believe that God's justice which is divine will always come. It's that faith that we live on. Those who killed my father will not have peace no matter how big they are in the society. One day, God will avenge his death. We only want legal justice so that the killers would stop doing the same to others. We are not asking that they should be hanged. Their death will not bring back my father.
Do you have children who took after you and your parents' profession?
Two of my children, a boy and a girl, are lawyers and my late brother's only child is also a lawyer. I did not influence them to be. My son is exactly like my father, he loves politics more than law practice.
Would you encourage him to be a politician bearing in mind what happened to your father?
With the way my father died, I have come to a conclusion that Nigeria is not worth dying for. I told my father this a long time ago but he replied that anything worth living for is worth dying for. In his heart, he believed Nigeria is worth dying for. When he died, my son was 11, he started showing interest in politics at 15 and he is now 24. I prayed to God to spare him and He gave me the assurance that my son will not die. Politics is about service which is the best you can give to your country.
What is the greatest gift you got from your parents?
The greatest gift my parents gave us are values, integrity, good character and independent mind, not money, cars or houses. I tell my children that I will do the same because we are not rich. My father's name will not appear in a list of the first 10,000 richest people in Nigeria. But he was rich in investing in people.
Did you marry a lawyer like your parents did?
My husband is a publisher. My parents did not marry themselves as lawyers. My father read Latin and Greek and his ambition was to be a lecturer. My mother was actually studying History before she decided to go to England to study law. When she started studying law, my father, being a smart person, also enrolled to study the same. So she was the one who pulled my father along. My late brother was a lawyer, so is his wife and their only child. Muyiwa is an architect but his wife is a lawyer. People marry people that they share similarities with. The similarity between my husband and I is that we read a lot.
How did you meet him and was introducing him to your parents difficult?
I had known him for ages before he proposed to marry me. His mother was our teacher in secondary school and his father was in the same Students Christian Movement together with my father in those days. When my father was detained in 1962, he was the only man of God that visited him in his cell.
So in a way, our family had known each other. I thought we were just friends until he asked me to marry him. I spent 12 years in England but it was clear to me that I would return to Nigeria to marry one day. I never nursed the idea of marrying a white man.
Did you ever urge your father to dump politics and escape from being detained and hunted?
A week before he was killed, I discussed this issue with him. When some statements were made about him and when his cap was removed in Ile-Ife, I told him that these people were planning something sinister. He did not believe anyone could kill him. That is why I said Nigeria is not worth dying for. Being his only girl and eldest of his children, I was very close to him. I even wrote a book about how close we were. He fasted all his life and he only ate on Sundays. He had no sense of smell and he viewed it as a gift. He lived a Spartan life. He trained himself in a strict way. He did not drink alcohol or smoke throughout his life.
Where were you when he died?
I was in my house but I visited his house with my brother, Muyiwa three times on the day he was murdered. He travelled to Lagos that day and returned. He was supposed to attend a Christmas carol in my church that day and travel to Esa-Oke the next day. My children had bought Christmas gifts for him. When we went back to the house in the evening, we discovered his body. He was killed a day after I celebrated my birthday. I spoke to him on the phone on my birthday and he prayed for me for 40 minutes.