News
12 things we learnt from Tonto Dikeh's First Post-Baby Interview (WATCH)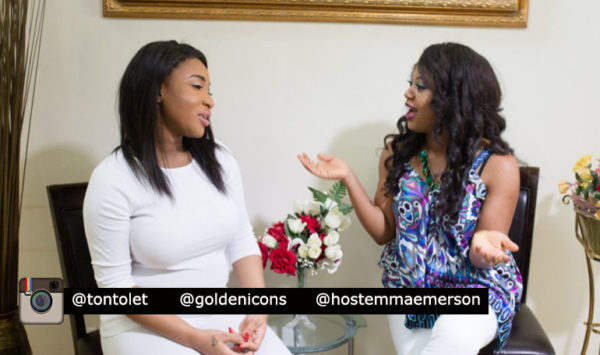 A fe days ago
(HERE),
we brought you a sneak peek of Tonto Dikeh;s first post baby interview…well the full interview is now out.
In the interview the actress/singer
talks about the new chapter in her life and career, the birth of her
child, white wedding plans, husband's relationship with former Nigerian
president Obasanjo', her controversial past, tattoos and leaving her
record label with music superstar D'Banj.
For those of you that do not have enough Data plan to watch the video, here is a quick transcription of some of the major things she said.

1. The interview is Tonto
Dikeh's most intimate, vulnerable, honest and authentic interview.
2. Tonto Dikeh didn't ever think she will end up as Churchill's wife, even though the two years long relationship was serious from the very beginning.
3. Tonto Dikeh's currnet husband, is the only Man she didn't have to spend money on to be with her.
"This is the only relationship I have ever had that I respected. I had the urge to protect him from the media and he had same too. It was magical, i felt the relationship needed all the privacy it could get. He is Godly, he is one man that i ddnt have to give my money to be with me."
She however refused to go into details or mention the other guys she has spent money on, out of respect for hr husband.

4. Her husband, Church Hill brought her closer to God and changed her.
"He respects me and brought me closer to God. I am still poko, I just became a better person, it was the media that made me a controversial person but he made me more aware of ife, i grew up and my relationship with God was more strenghtened."
5. Her husband doesn't care about her past.
"He is stronger than me and i respect him for that. He didn't have a problem with me or my past, I have seen him delete contacts that say negative things about me to him
6. She was pregnant as at when she had her traditional marriage
"I was pregnant when I had my traditional wedding, it was a secret we kept away from the media.
7. Her white wedding details will not be hidden from everyone
My white wedding will come up soon and it is not going to be private. My husband wants a destination wedding but i would appreciate it happening here in Nigeria.
8. Her family is happy with her
My family is super excited for me…they had this fear of me not ever getting married because I am an actress.
9. She thinks that her father-in-law, Olusegun Obasanjo is the opposite of what the media portrayed him as


Obasanjo is a wonderful man, he is spiritual and into God and very educative and disciplined.
10. She hates Nigerian blogs
I don't read blogs, I hate blogs because they make me cut
across as someone that is controversial. One thing i used to do wrong
was to always clap back irrationally but now i am changed, i just
ignore, i have a beautiful life, home, son and hubby, i dont care about
what anyone says about me anymore.
11. Relationship with Dbanj
Dbanj is a sweet person, I love him so much but we just couldnt work it
out business wise. I am not going to work anytime soon, i want to give
my baby 100% of me, i dont want any nanny touching him for me.
12. It was her husband that told her she was pregnant
I din't even know I was pregnant, he was the one that told me i was pregnant, he reads alot, he has the IQ
of above normal. He can just look at you and tell you what's going on
with you. We didnt plan it, it just happened. I always knew it would be
a boy even before we saw the scan result.
Other things she said….
Her husband never brags about being Obasanjo's son. She can't speak yoruba but she likes it, it is sweet…she understands it.
Yes, she took a break from acting. She doesn't feel bad when people mock her music cos music is not her talent, but she just loves music.
I dont have friends, i dont keep friends but swankyjerry is my bestfriend.
I am not sure i want to show my baby to the word anytime soon, it's my private life and just the way i kepy my relationship/marriage away from the media is how i would do it.
I would still a tattoo in my sons's name.
I cried today while doing a photoshoot for my son, seeing my cute son made me cry.
You can watch the video below: