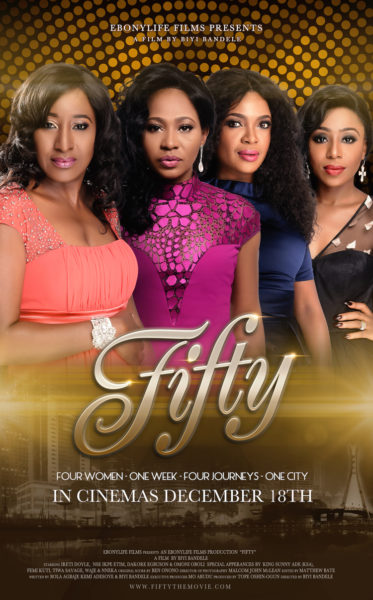 After days and weeks of postponement, I finally got to watch the much-talked about movie Fifty yesterday at the Silverbird Cinema, Ikeja.
I was impressed with the movie production, casting, backgorund music, sound track, lightning, especially the DOP and everything else, except for the way it ended, which I didn't really like per say.

The story captures the lives of four Nigerian women at the pinnacle of their careers, love and life in general.
Tola (Dakore Akande), Elizabeth (Iretiola Doyle), Maria (Omoni Oboli) and Kate (Nse Ikpe-Etim) are four friends in their 50's that go through life like any 50 year old woman in the middle class to take life by its horns.
An EbonyLife Films production, with Mo Abudu its executive producer and Biyi Bamidele as the movie's director.
Kate (Nse Etim)is an events planner whose husband Chike who is a jobless man who loves to gamble. She found a lump in her breast and keeps going to church to find her healing.
Tola (Dakore) is the diva with a reality TV show. She is rich and spoilt and having issues with her husband (Wale Ojo) who in turn is in love with another woman (Omoni Oboli).
Elizabeth (Ireti Doyle) is my favorite character, I love her! She is a renowned doctor that has a toy boy, Emmanuel Ikubese (Mr Nigeria) and a daughter that is not talking to her. She had a nice blend of proper English, pidgin and Yoruba languages Oh by the way, Emmanuel nailed the toy boy part very well, we even got to see his naked butt.
Before I forget, I must mention that Fifty
actually pushed the boundary on what passes for a sex scene in a
Nigerian movie…especially the Elizabeth and her Toy Boy sex scenes.
Maria (Omoni Oboli) is a successful woman, who is having an affair with a married man, Kunle (Wale Ojo). She gets pregnant for him.
From one woman in church to another at an art auction the story was beautifully shot and well told with the Lekki-Ikoyi Bridge as a focal point to constantly remind us of the middle- upper class' perspective.
This movie talks about the painful topic of rape and family problems like how other people's meddling in the problem of others.
I also loved the way the likes of King Sunny Ade, Afrobeat heavy weight Femi Kuti, German-Nigerian singer-songwriter Nneka, pop icon Tiwa Savage and Waje were made to feature in it.
I loved how Lagos was portrayed as a beautiful city and not confronted with the dirty littered streets, the bus
parks and its usual noisy crowd, the hustle and bustle associated with
Lagos. They made Lagos beautiful.
Truth be told, Fifty was a great source of entertainment with its brilliant cast and plot
twists. The four major characters interpreted their roles well!!! And yea, Malcolm McLean, who was the director of photography, did an incredible job in capturing the scenes and illuminating Lagos.
But the movie didn't end well.
At the end of the movie, I was just like "Er, so what happens next?"…no moral les and all.
Too
many things were left to the imagination. Maybe it was an omission or
maybe they deliberately left us to complete the story ourselves (which
is probably the option they'd pick) but nevertheless, I (and a few other
people) really think the movie could have ended on a better note.
Asides that, the movie is worth all the hype indeed as there wasn't any boring moment in it.
And just so you know, Fifty is now certified as the Number 1 Nigerian film of the
year, with Box Office analysts predicting that it should end in over
N100m by the end of this month.
Oh by the way, Fifty is not about Mo Abudu's personal life like some people think.
Ta da!
You can watch the trailer below: