For the Newbies, the KFB movie review is an every Friday column that gives you a cinema guide on which movies to watch and not watch! You can check out our other reviews (
HERE
).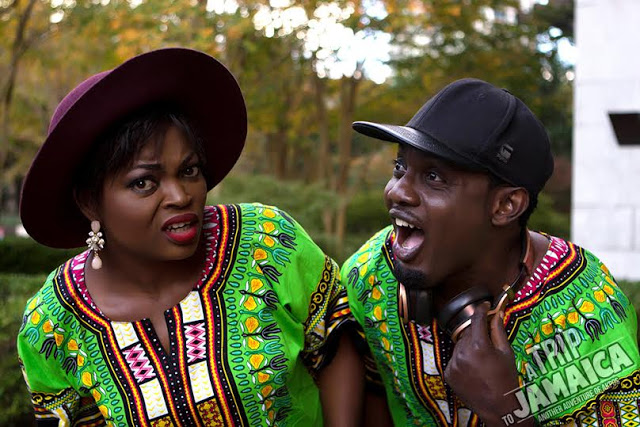 So, Comedian Ay's 'A Trip To Jamaica' that is currently running in Cinemas nationwide has already raked in 80 Million Naira to surpass every other Nollywood movies that has hit the cinemas in 2016.
The movie also set a good tone for itself in its first week in the cinemas, by reportedly making 61 Million Naira in Nigeria Cinemas.
It was produced by Ayo Makun (AY), co-written by Dianne Diaz and directed by Robert Peters and boasts of a stellar cast comprising of AY, Funke Akindele, Nse Ikpe-Etim, Eric Roberts, Paul Campbell, Chris Attoh, Dan Davies and Rebecca Silvera.
Well, I decided to go see the movie few days ago and this is what I think….
First, it is really an upgraded version of his last production; 30 Days in Atlanta!
Shot in Nigeria, America and Jamaica, the film focuses on Akpos and his fiancée Bola, who travelled across the Atlantic to visit family, they unexpectedly end up on an adventure they could never imagine.
The movie opens to Akpors proposing to his girlfriend Bola (Funke Akindele) during a live concert. She accepts his proposal, and the couple decides to travel to Atlanta to visit Abigail (Nse Ikpe-Etim) and her wealthy husband, who is referred to as Big man (Dan Davies). During their visit, an unexpected turn leads to a family trip to Jamaica.
I think this movie has a good story line. I like the crime twist. Brilliant! However, Nigerian movies has a really long way to go when it comes to crime scenes. For goodness sake, a crime scene should be acted as a crime scene. It should look real. The viewers ought to feel some sort of apprehension but the crime scenes in this movie looked like a caricature.
Then, Funke Akindele who always had an amazing talent; one of the best Nigeria has had so far! Her acting prowess is top-notch and she didn't disappoint in this movie. But she was somehow struggling to be funny, unlike her usual self.
Wondering what happened to there, our dear Funke wasn't as witty and funny as she used to be. Then her makeup made her look much older . She looked so stressed out.
Furthermore, it also came with a cliché ending; everyone had to find love in the end which I think should have been twisted. Bola (Funke Akindele) fell in love with Jamaican dude, Marlon, Akpos (AY) fell in love with the another Jamaican lady (Rebecca Silvera) and Nse fell in love with Chris Attoh?
Finally, 'A Trip to Jamaica' is a relaxing movie. Something you can watch to ease of stress. You can give it a shot! Recommended!
Watch Trailer below