For the Newbies, the KFB movie review is an every Friday column that gives you a cinema guide on which movies to watch and not watch! You can check out our other reviews (here).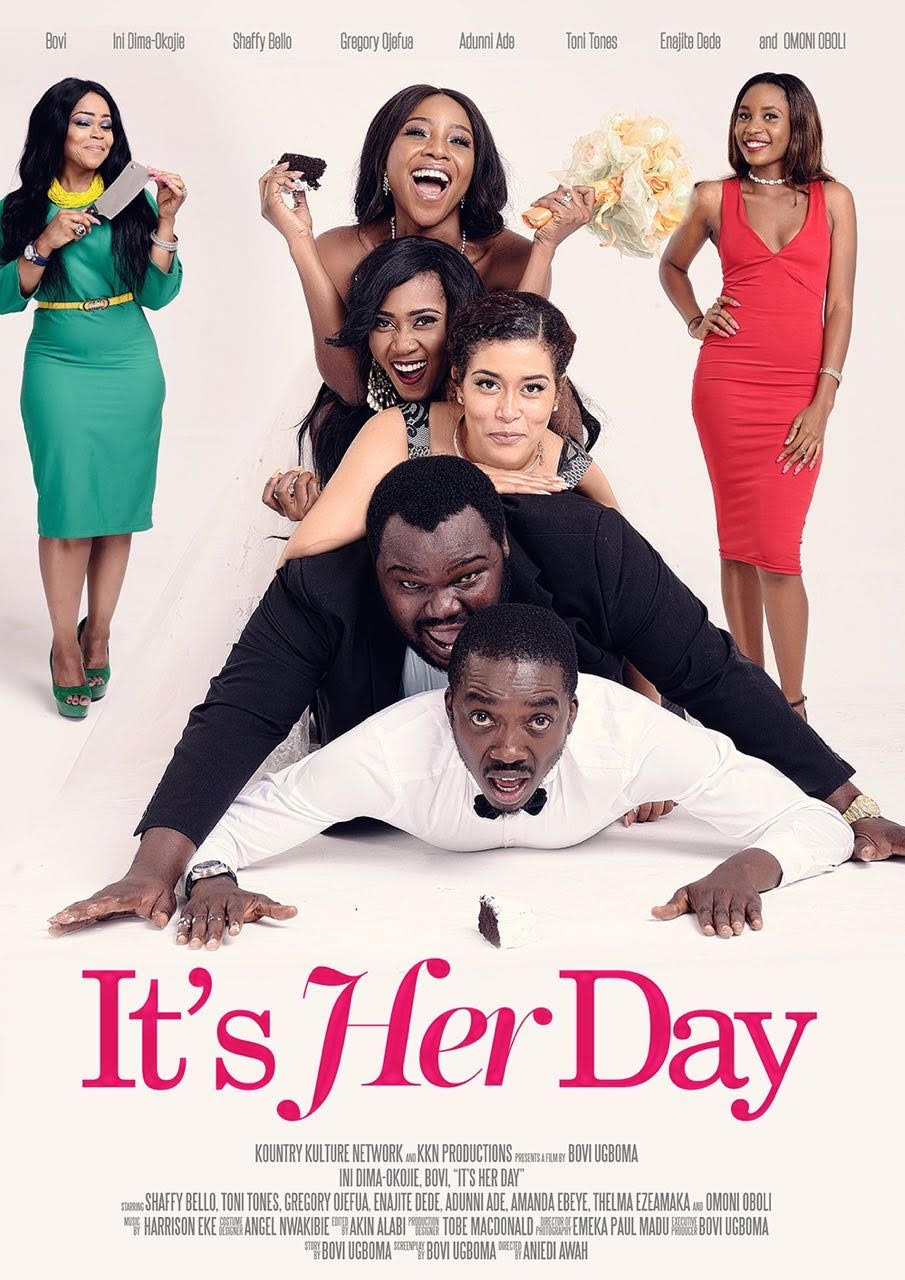 Popular comedian,
Bovi Ugboma
, who has made a name in ribs-cracking business, stormed the movie industry with this new romantic movie titled 'It's Her Day' which was premiered on Friday, September 9, at the Genesis Deluxe Cinema, Victoria Island, Lagos
KFB was there to watch the romantic comedy directed by Aniedi Anwah, the movie parades the likes of Omoni Oboli, Amanda Ebeye, Ini Dima-Okojie, Shaffy Bello, Toni "Tones" Adefuye, Thelma Ezeamaka, Enajite Dede, Gregory Ojefua and Bovi, who played the lead role.
And here is what we think……
Well, we all know making comedy films can be very difficult as what makes Mr A laugh would do nothing to make Mr. B smile and there is also always that actor or character trying too hard to make viewers laugh. Unlike other genres, it is very difficult to keep things fresh in comedy, it takes a lot of talent to achieve that and Bovi made it happen in 'Its Her Day'.
The movie focuses on a soon-to-be wed couple who returned from overseers but from different backgrounds and have contrasting ideas of what their wedding day should be like.
While the groom-to-be, Victor (Bovi Ugboma) believes a wedding should be simple, after all he just got a huge pay job and has not even received his first salary. So he has 'hammered' yet.
The bride-to-be (Nichole) and her family want a fairy tale wedding with 1020 guests- (1000 from the bride's family and only 20 from the groom's).
From hiring Kelechi Amadi Obi for pictures and contacting Davido, Wizkid, Timi Dakolo, Basket Mouth, Julius Agwu, to the wedding, paying 2Million Naria for a wedding hall, among other hilarious demands from Nichole's family, Victor couldn't help but found a way out.
Meanwhile, before Victor had gone abroad, he was dating Omoni Oboli's character and cut off communication with her after he met and supposedly fell in love with wealthy man's daughter, Nichole.
Victor represents most Nigerian men who are under pressure to deliver a blog worthy engagement and wedding. He also represents an average Nigerian, who finds himself or herself living above means to be recognized or accepted in a society.
The success of the film is dependent on all characters. While every one of the cast delivered a great performance, Bovi, Ini Dima-Okojie, Shaffy Bello and Toni tones are my best. They delivered hilariously entertaining characters
Visually, the film is an exciting delight with no distracting 'out of this world' shots. The movie is directed by Aniedi Anwah, who obviously knew what he wanted, and worked towards directing the actors to create the intended characters and effect.
From Bayo saying to Omoni Oboli's character, "Can I have your phone number, it will be easier keeping up with you online than on land, "to Bovi saying "I am now confused if its a wedding or show that we are doing. It's as if it is Marriage unplugged," "It's Her Day" comes with interesting conversations.
The movie also ends on a realistic note. Not an out of this world twist, not a cliffhanger, just a realist end to a realistic story.
However, although this may not have been the writer's (Bovi) intention, but the movie also touches domestic violence against men, a topic that is overlooked in Nigeria.
Good news is, the movie has enough appeal to retain his fans, and still pull in fresh audience looking for a perfect comedy movie to soothe the feelings that come with the country's current recession in Nigeria.
Make out time to see it soon…..Watch Trailer below…