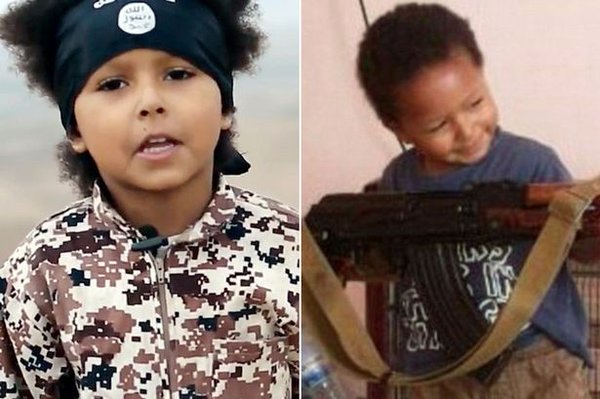 A
child who featuires in the latest sick Daesh video has been identified
as the son of London convert Khadijah Dare
A
London taxi driver has said that he is the grandfather of the young
child shown speaking in the latest sick Isis video from Syria.
Nigerian-born Henry Dare is the father of Grace "Khadijah" Dare, a
Christian convert from Lewisham, who converted to Islam in around 2012.

She took her son Isa on moving to Syria to marry Swedish militant Abu
Bakr, who was later killed.
Henry Dare told Channel 4 News he had
not seen his grandson Isa for over three years and was surprised and
disappointed to see him in the video, which shows the killing of five
Syrians by five IS thugs including one with an English accent. Asked
whether his grandson knew what he was doing Henry said: "No, he's a kid,
he's a minor. He's under five. He's acting under the influence of the
IS leaders."
"He's my grandson. I can't disown him. I know him
very well. He's propaganda. They are just using a small boy. They are
just using him as a shield," he told the news programme.
Hinting
that he had spoken to his grandson on the phone Dare told The Telegraph
he hoped to see his daughter and grandson again. "I was surprised when I
saw the picture. It's definitely him. Of course I'm worried but there's
nothing I can do now. I'm not angry – I would never have expected it. I
just hope someone is trying to bring them back."


Since moving to
Syria Khadijah has posted messages and images on social media under the
name Mmuhajirah fi Sham, including one of her son holding an AK47.
Khadijah said she would never return to the UK and that the only thing
she missed about life here was junk food and Chinese takeaways. She also
hoped to be the first UK woman to behead a prisoner for Isis.
Hundreds
of UK citizens are thought to have gone to join Isis in Syria,
including a number of women and girls nicknamed "Jihadi Brides." The
British women are notorious in Raqqa, the stronghold for the group,
because of their apparent love of cruelty for anyone who transgresses
against their religion.