Incase you missed the Part 1 and 2 where Olajumoke Olawode-James fired shots at other hosts of popular TVC program, Your View, click HERE
Below is her latest attack.
*******
Saddled with sacking her colleagues, Morayo Afolabi-Brown, host of "Your View", made enemies; a few years ago. She did what she needed to do for her Television station to grow, as Deputy Director of Programmes; but eventually, even the station's Management had to let her go.
She said she needed to focus on her children, who were all under 7 years; so she chose to be in charge of her own business, than work under pressure.
But this isn't about her personally!
Can the ladies of "Your View" make heaven?
Will Nigerians make heaven?
It's rhetorical, but Nigerians are so judgmental, we behave like God. We are holier-than-thou and thus, judge everyone and everything else, but never ourselves.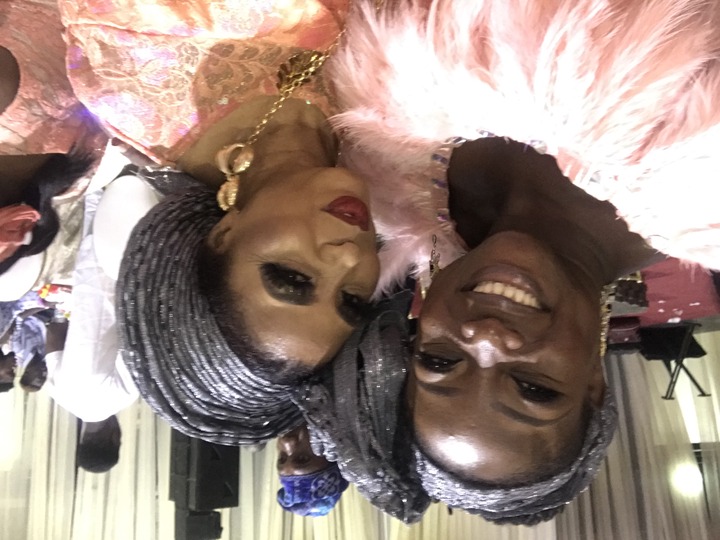 If you have followed my articles talking about different TV shows, with female co-hosts; I have asked some very serious questions lately.
Bobrisky and her mum attracted me on Thursday. While trying to understand their relationship, because I had never heard Bobrisky mention her mum, I took pictures with them.
I found out Bobrisky's mum knows my mum, just last night. And while trying to take a picture with her, I mistakenly made a video. I posted our conversation across my social media platforms.
Search for "Oluwaloninyo" across social media to view the video.
A few comments amazed me. Some people questioned why I shot the video and why I spoke about Bobrisky at all. That we (people talking about her), are making "him" acceptable to the society.
That's the crux of this article, today, last Sunday of 2019.
Why do we play God in other people's lives?
Who made you judge over how someone else should live?
Who made you the standard of human life?
Who are you and by the way, who is your father?
Nigerians: Who bewitched you?
Religion is the opium of the masses. The poor masses. From Governor of Kano state declaring it unlawful for men and women to enter into the same Tricycle (while it's not the same for those who fly in planes); to a Pastor declaring Christmas unbiblical. (Sir, Sabbath Day, as recorded in the Bible is Saturday, is it Biblical to worship on Sundays)?
Nigerians just always seem to know more about their borrowed religions, than the originators.
That's the reason "Your View" became popular. We set out to question cultures and traditions.
If the culture that was passed on to you is Law for you, don't judge others who decide to create their own culture. Years before Christ (BC), men used to wrap themselves in clothes. Till today, men wear skirts in Scotland. So, if it is SIN for a man to be dressed like a woman, will any of the ladies of "Your View" make heaven? (As we refused to judge anyone by tribe, sexuality nor religion).
But, if it is SIN for anyone to judge others; will Nigerians make heaven?
We judge what we don't know.
We judge what is different.
We just keep pointing fingers at everyone else, we forget we aren't perfect ourselves.
"Your View" was created to change that (that is before it became "Your View with Morayo"; where Morayo then started doing her own interviews).
The idea was for everyone to have their own views without being condemned for being different.
Live and let live!
If you don't agree with someone else's way of life, as far as they are not being paid with taxpayer's money, you truly don't have a reason to condemn them.
And once we all realise we can't dictate other people's views, we may become more tolerant of one another.
If they ask you about 'Jumoke, tell them Jay is not a coward. I live by my own personal and religious standards and obey the laws of the land. Simple.
And as far as someone isn't breaking any law, leave religion, to be each individual's personal relationship with God. You will be surprised that the people you judge today, will make heaven.
After all, we all live by grace. No one can predict the future. Enjoy grace and leave everyone else to God…. except you pay their bills, that is!
Oh, I don't believe in cross dressing, nor all the other over 4,000 religions in the world. But I am also wise enough to know, I only know my own view of the world. I don't know everything. So, I refuse to judge what I don't know. How people choose to dress, definitely doesn't affect me. I will just address them accordingly.
So, I choose to laugh, deliberate on such issues if I feel like, but, I leave judgement to God. That's the way I believe it should work.
But again, everyone is entitled to their own opinions. Judge on, if it tickles your fancy. It's water off my back.
I am still going to do my interview with Bobrisky's mum. While trying to change the video back to picture, you could hear her excitedly introduce herself as Bobrisky's mum.
How so sweet! Family is everything.
Jay!