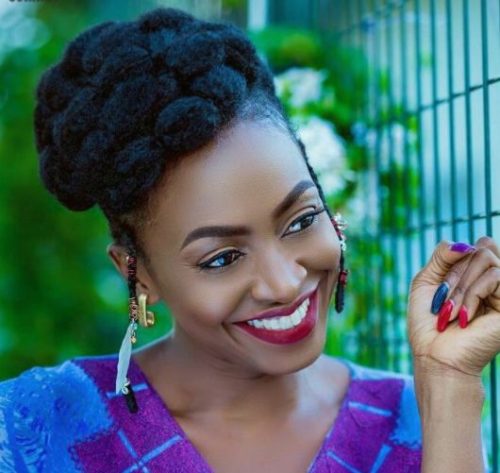 46-year-old Popular actress, Henshaw Kate has disclosed the secret behind her happiness and her youthful. It's definitely not what you are thinking…
Though actress, Kate Henshaw is closer to 50 than 40, not just a few would think the actress is just in her late 20s. She has managed to look trim, fit and sexy despite her age.
Known for her great love for dancing, Kate, as she is fondly called, said she has always loved music.
"Music is the food of love and it is for the soul. If they are playing good music anywhere and you refuse to dance, then you are evil. I mean when everyone around you is on their feet, sweating it out on the dance floor and you remain on your seat, are you the devil? Music is from the heart and since I choose to be happy, anywhere they play good music, I start to dance. That is the secret of my happiness and that is what makes me look young. I am happy all the time."
Also known to be a fitness enthusiast, Kate revealed that ever since she discovered the benefits of exercising about seven years ago, she has not visited a hospital in five years.
"I began to really do exercises about seven years ago and the benefits are just numerous. I can see the changes in my body and my health is great. I have not been to the hospital in five years. Before I began to exercise, I used to have malaria, fever or typhoid almost every month but I have not been to the hospital for anything and I know it is because of the exercise and the fact that I decided to choose a healthy lifestyle. The more you exercise your body, the stronger you get. I keep pushing my limits at the gym because that is what I am supposed to do. Athletes and people who cherish their health never stop training, they keep going," said the actress.
Punch
Coming after 8 years of her husband's death, wife of the former governor of Akwa Ibom State, Mrs Imo Isemin is dead.
Mrs Isemin died in a private hospital in Uyo, the Akwa Ibom state capital.

A source in the family, said that the first lady died after a brief illness. She was said to have been taken to the hospital after she suddenly fell ill.

Her husband, Mr. Isemin died in 2009, 16 years after leaving office as governor due to the military coup in Nigeria that brought Sani Abacha, a general, into power.

Until her death, Mrs. Isemin was a successful entrepreneur and a stalwart of the All Progressives Congress, (APC) in the state.