Nigerian guys sure know to melt hearts!
Some of the best marriage proposals are sweet and simple,
and others are so elaborate it's hard to plan a wedding that can
actually top the excitement of the big question.
Grab the tissues, sit down and prepare to be overwhelmed by love and
romance.
Kemi Filani Blog Weddings, has compiled a list of the most amazing Nigerian surprise proposals of 2016.
Some of them are tear jerks, while some will make you laugh for joy!

1. The Guy that proposed to his Woman during a live streamed Church service at the Redemption camp! (HERE)
The Nigerian couple, Eke Nkem and Precious Ekhator practically stole the show for about five minutes during the Redeemed Christian Church of God's 74 hours Marathon Messiah Praise which was held to commemorate the 74th year birthday of the General Overseer, Pastor E.A Adeboye, early this year.
While the last session was on, Eke who was dancing alongside his bae, suddenly went on his knees…she didn't understand what was going on until she was the BLING and screamed.
According to Eke, "She deserves the best and in the presence of God is where there is fullness of joy".
Here is the video:


2. The viral musical chair proposal (HERE)


It was a sweet proposal for Black couple, Pacius and Baker who have been dating for 5 years and also a double ceremony for Baker who had her graduation party on the same day she got proposed to.
Pacious 26, proposed to Baker, 27, after a game of musical chairs at the Neptune City Community Centre, May 14.
"It was so hard to plan because you are so nosy…I am star struck"said Pacius on bended knee after the game of musical chairs. "You are so beautiful, you always love me 100 percent and you have made me a better man."
Videos:
3.#ForeverDuncan's Proposal turned Wedding All in 1 Day (HERE)
Alfred Duncan
surprised his bride Sherrell, by proposing to her by noon and marrying
her in the evening of the same day.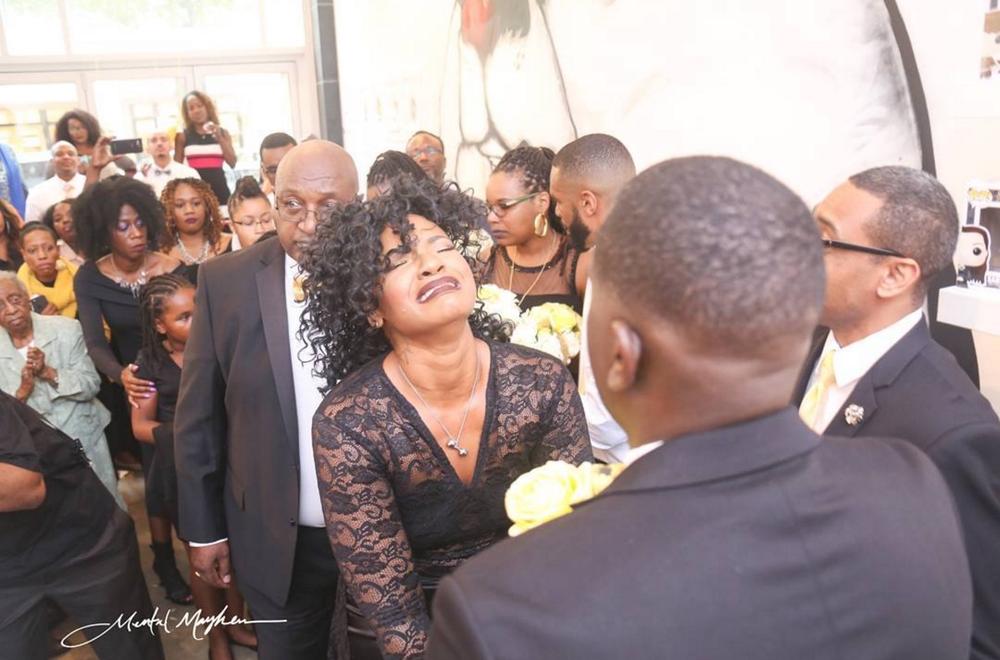 He proposed to her at 12pm and organised a surprise wedding at 6pm on the same day.
The bride couldn't hold back her tears of joy as she cried almost all through.
4. Judith and Efe's Proposal with a Ring & a Car
Efe popped the question to Jude with a ring AND a car!
Efe
and Judith met in Abraka State University and were very close friends
from 100 level. In his words, ' One day, I was sitting outside my
hostel, and I saw this pretty girl walking alone to get something, I
approached her and I guess you know the rest.' He decided this year
would be the year to seal their relationship with those special words
and was definitely ready to spend the rest of his life with her.With
Judith studying abroad and expected to visit Nigeria for the holidays,
he contacted Lovebugs Proposals and the planning began.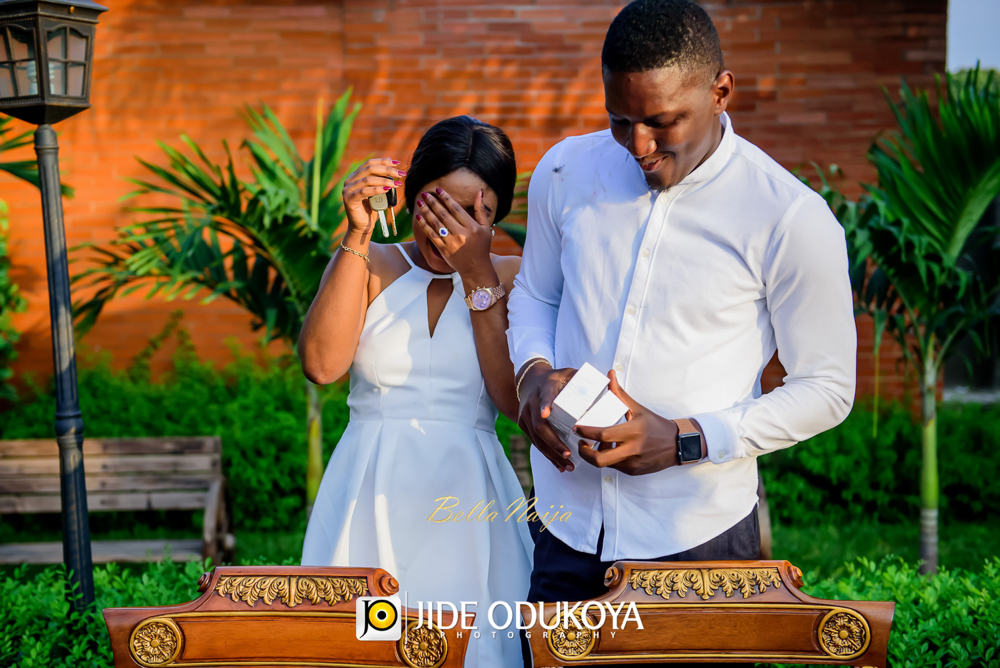 Efe's proposal was more like a fairytale.It was a documentary themed/ outdoor proposal.
A day after entering the country, Efe invited Judith for his friend's
all-white birthday party, which she agreed to attend with him. Unknown
to her, the birthday party was actually her proposal party. On entering
the building, everything had been branded like a birthday party to ease
any suspicion and she was led to where the party was in a lobby filled
with some friends.
A little announcement was made that the celebrant was
now committed to a humanitarian cause and would love his friends to
contribute in whatever way but in order to understand what it was, they
needed to watch the video.
The documentary was played and to Judith surprise it was all about
her. The documentary portrayed important details, such as their favorite
spot in school as well as the exact location they met. It also featured
heartwarming and funny interviews with her nearest and dearest. With an
instruction at the end of the videos to follow the lead, Judith was led
outside and to her surprise the welcome sign had changed and then she
discovered the surprise of her life.
A romantic walkway, gallery on a tree, her favorite mantra designed
in a frame, an outdoor dinner, a bouquet of flowers on the walkway, a
live vocalist singing for her and her groom waiting earnestly in
beautifully decorated aisle with her picture in a large frame and with
some of their friends present. It was all soon overwhelming for her and
she was completely stoked!But it didn't just end there. She was showered
with gifts one of which was a car!
Coincidentally, Efe had bought the
car for her through a friend in Canada and had asked the friend to put
it in a phone case and give Judith to bring to home. She had been
traveling with her own car key all along!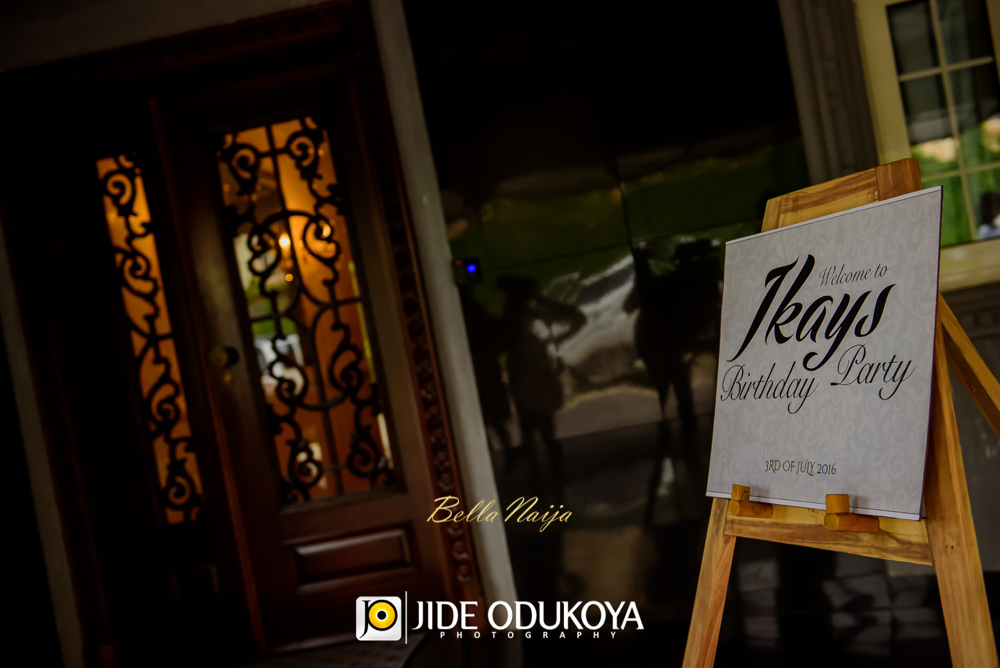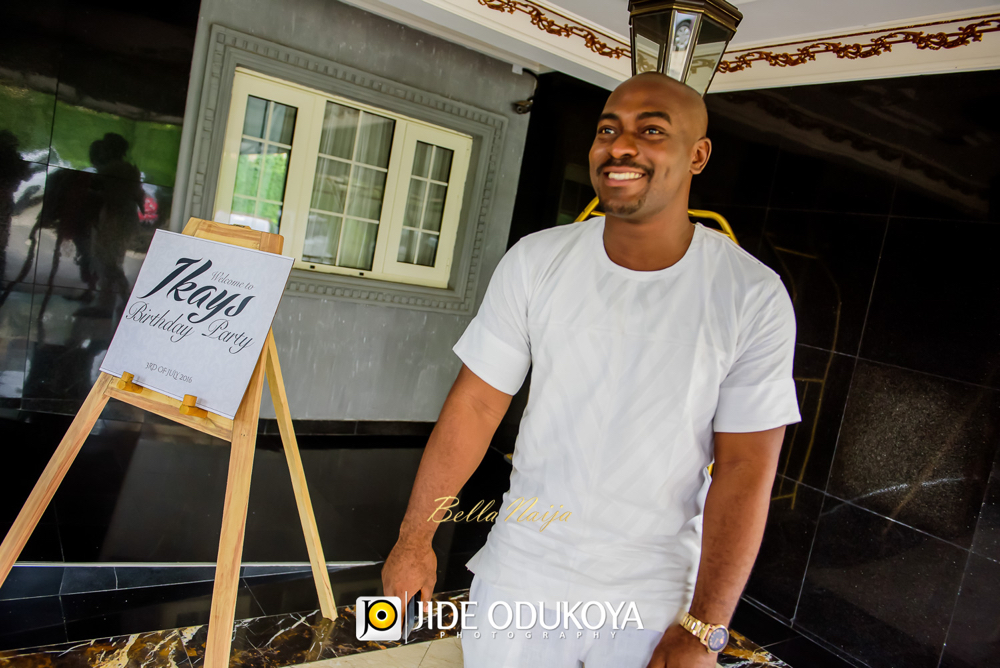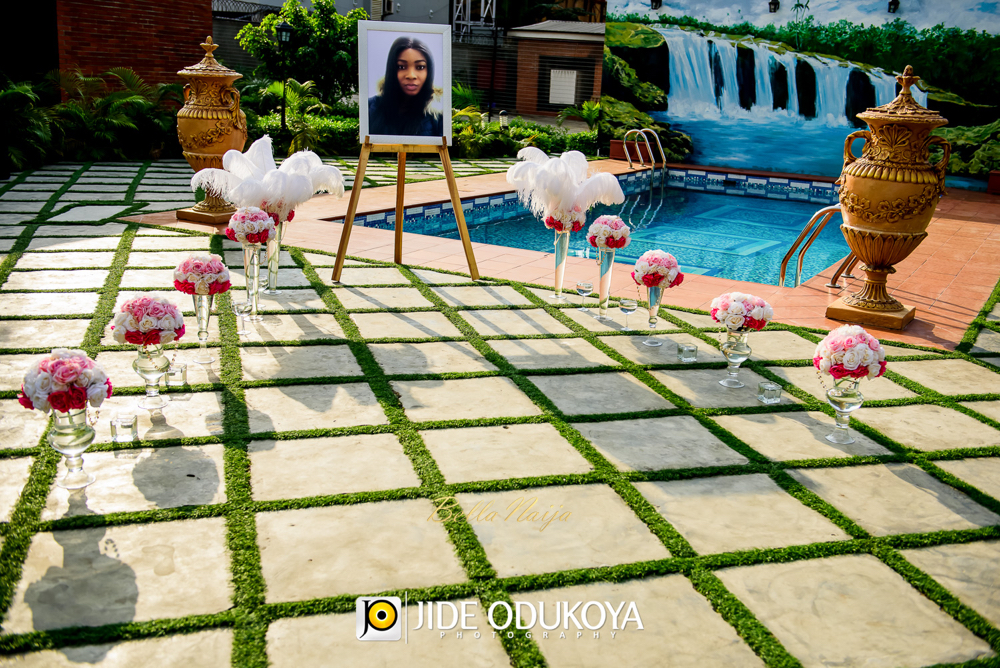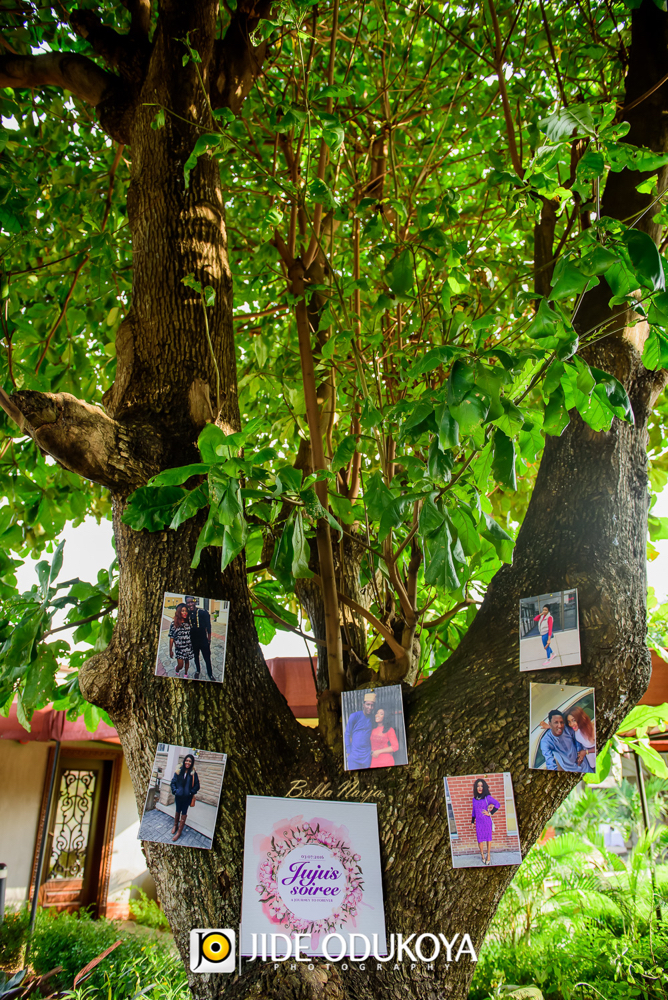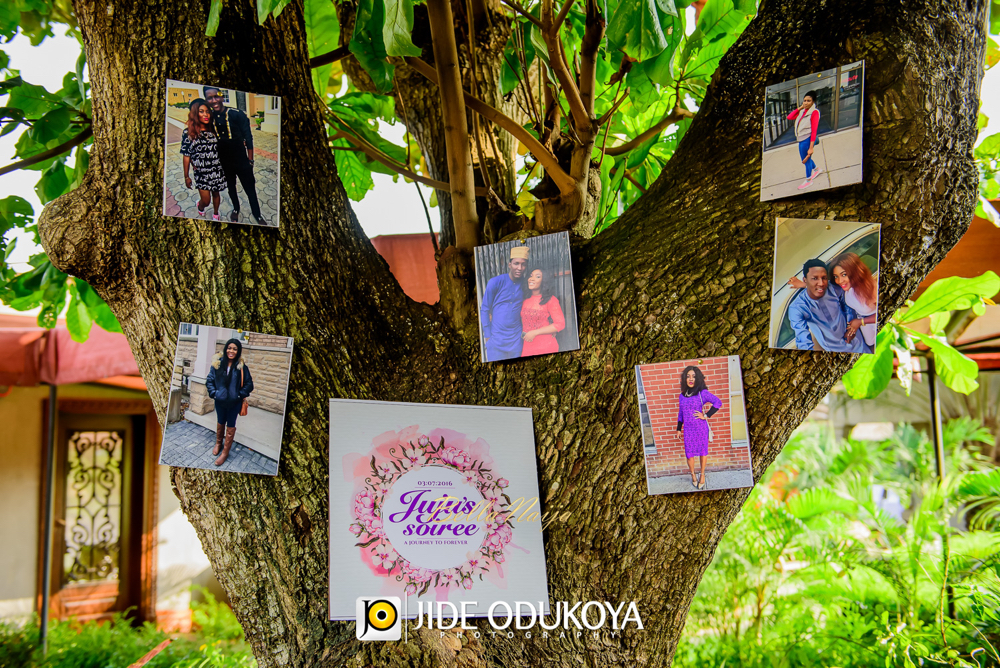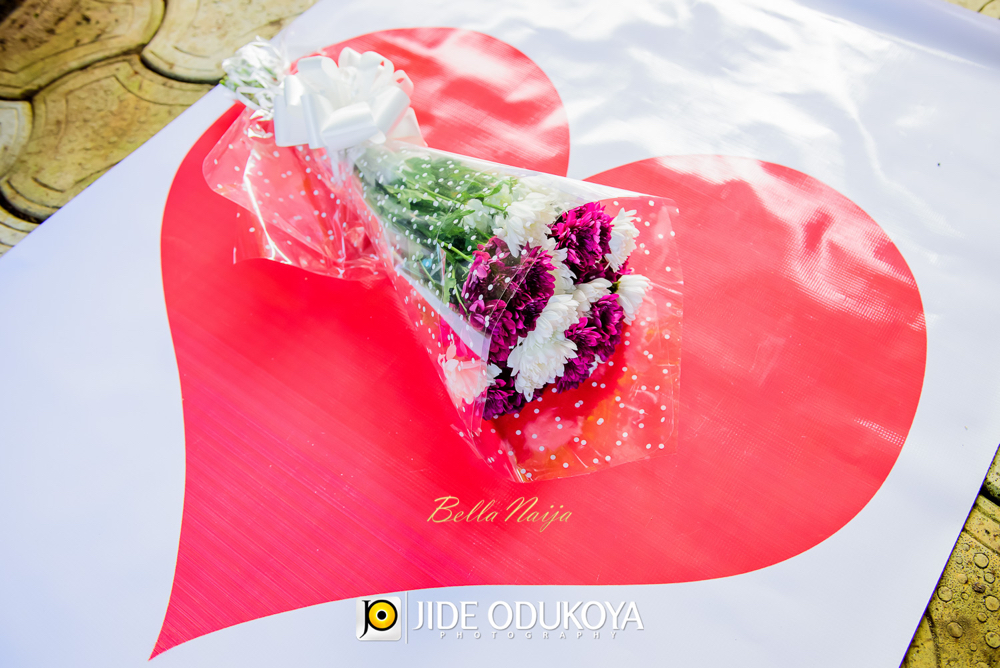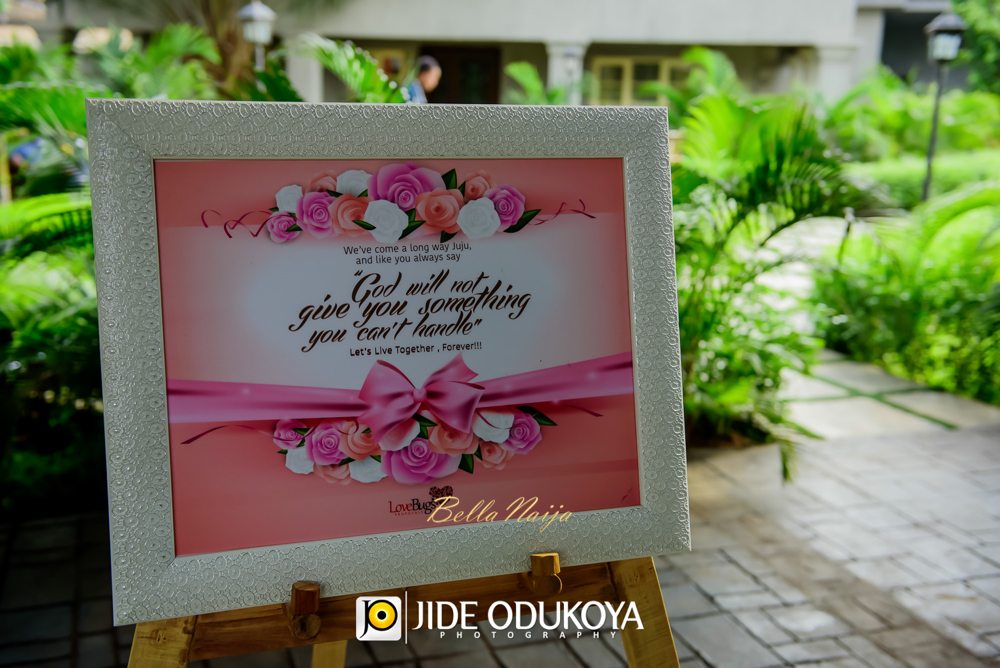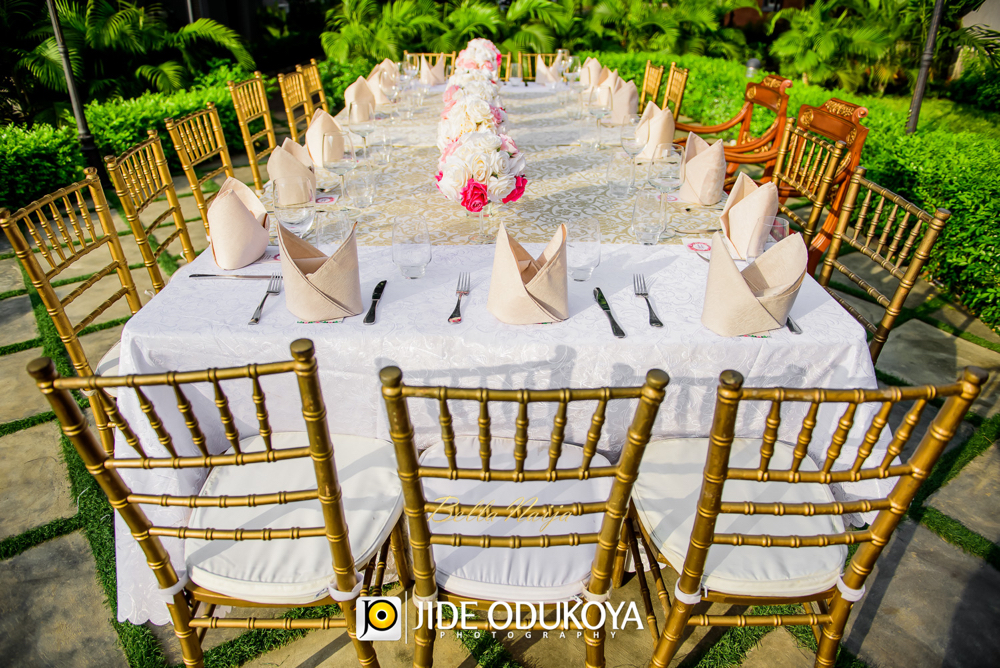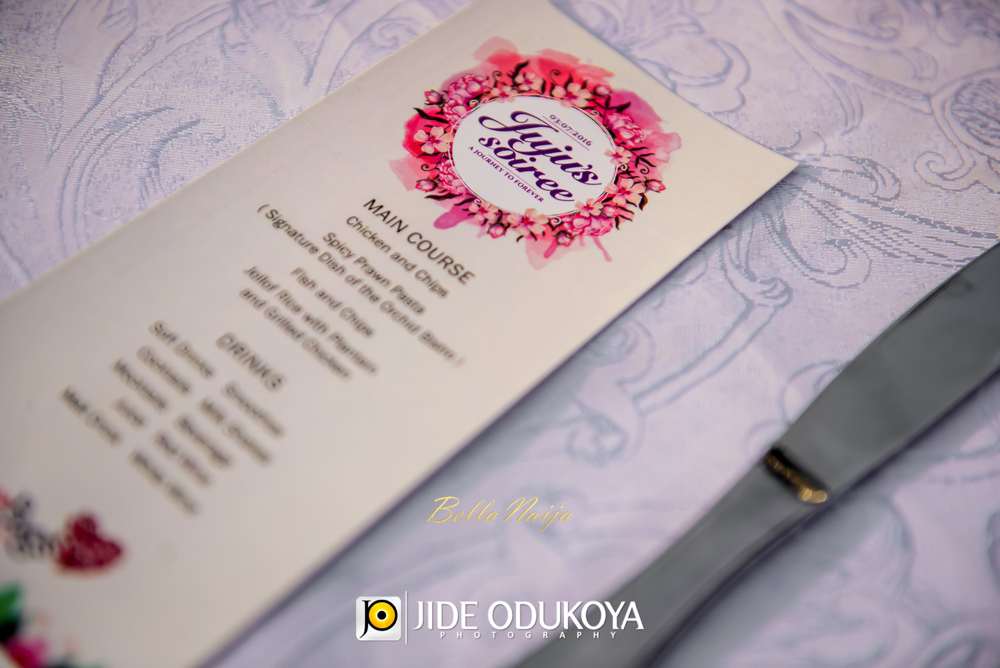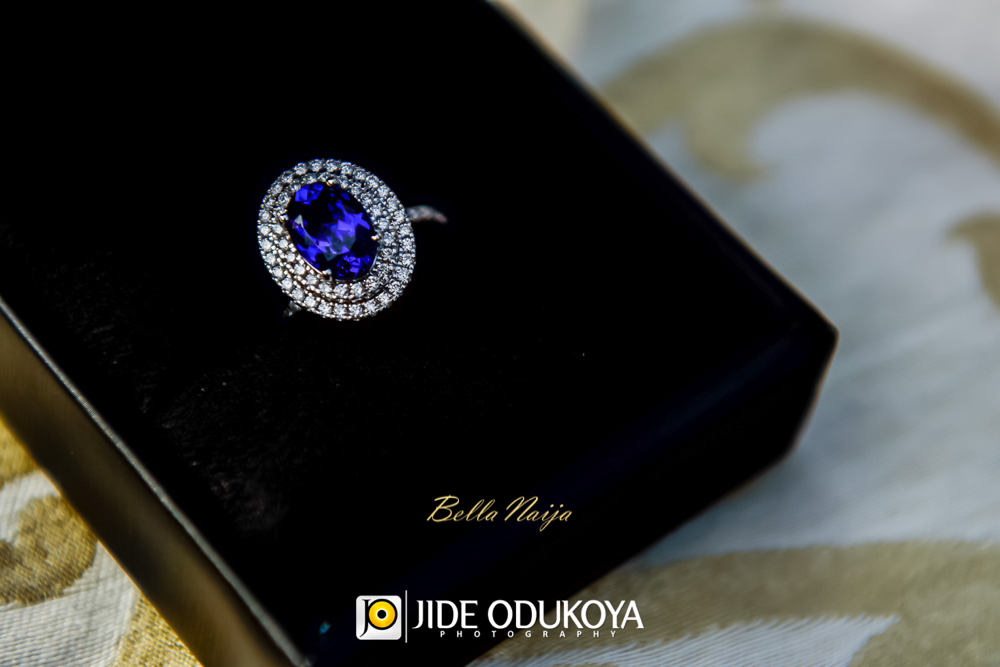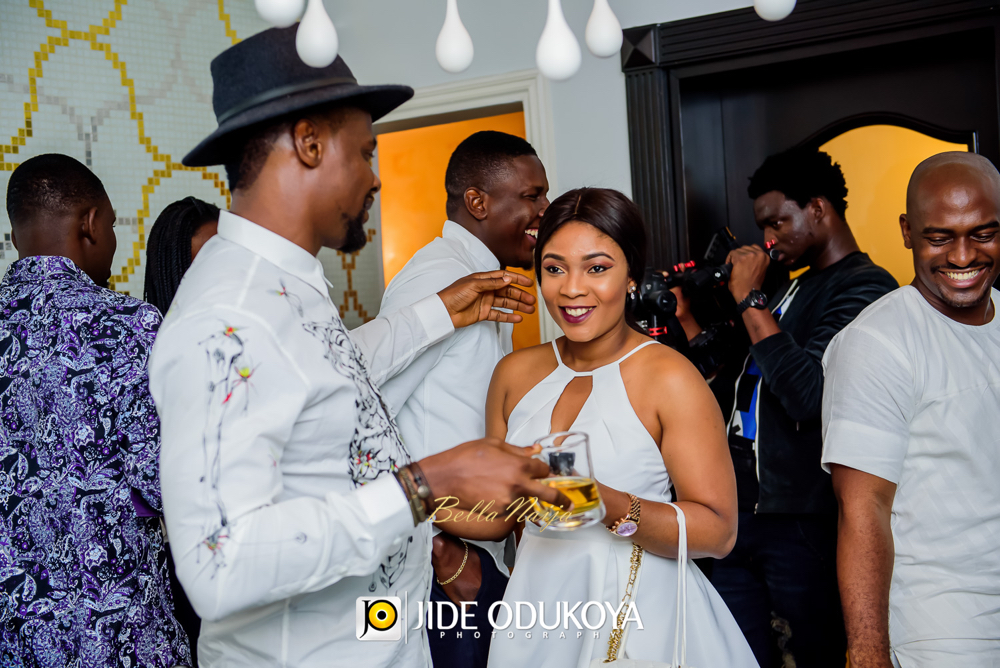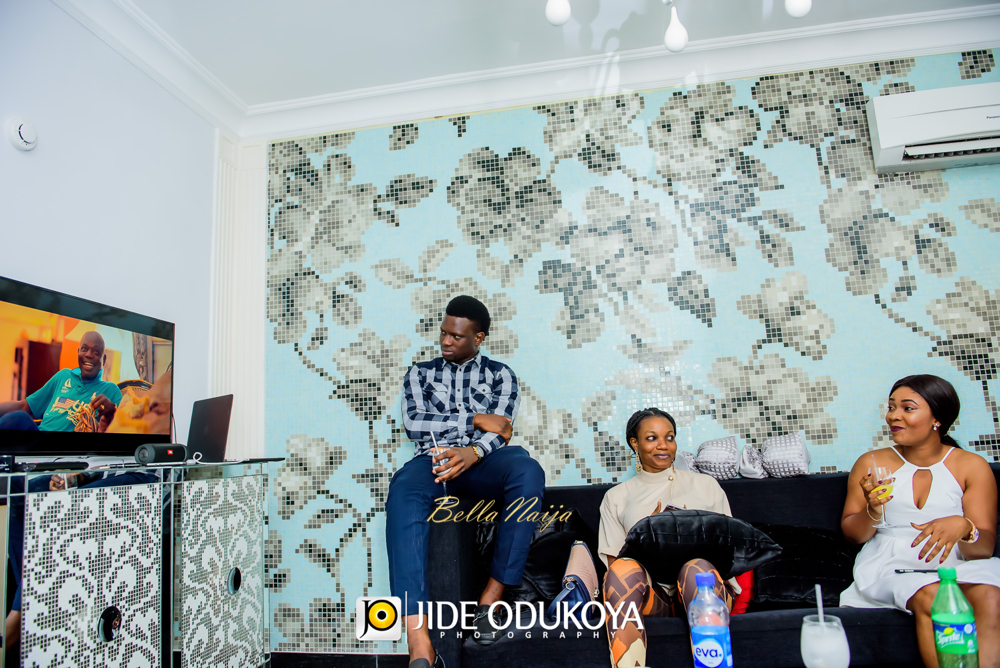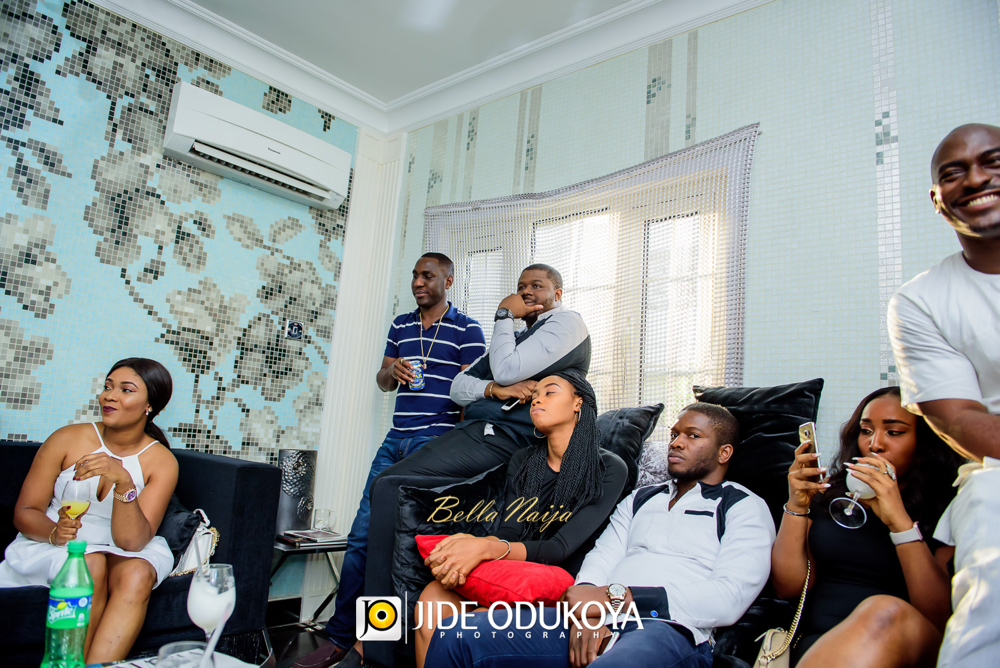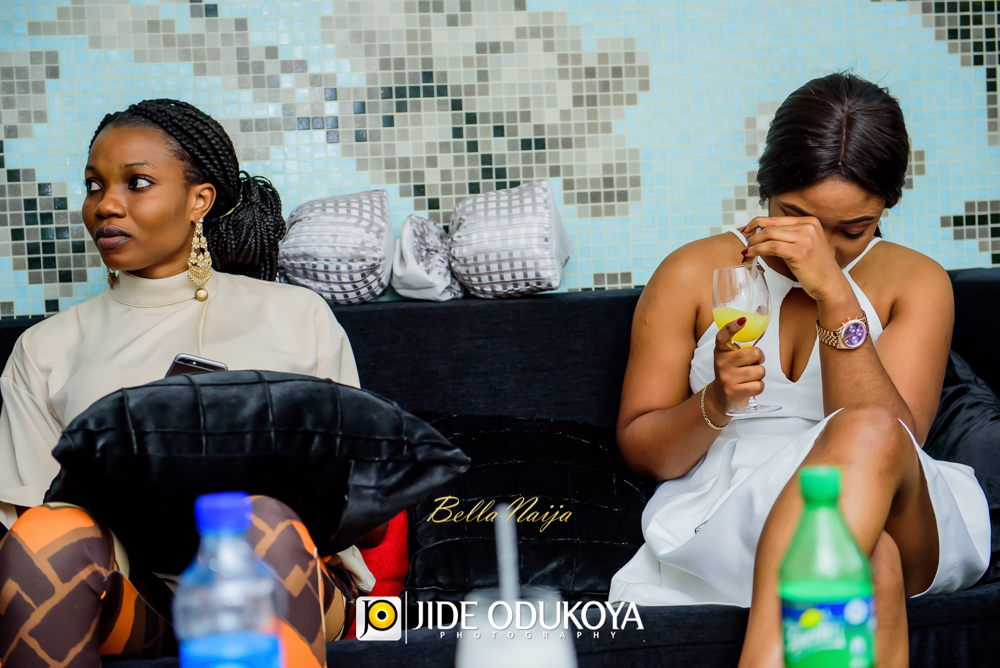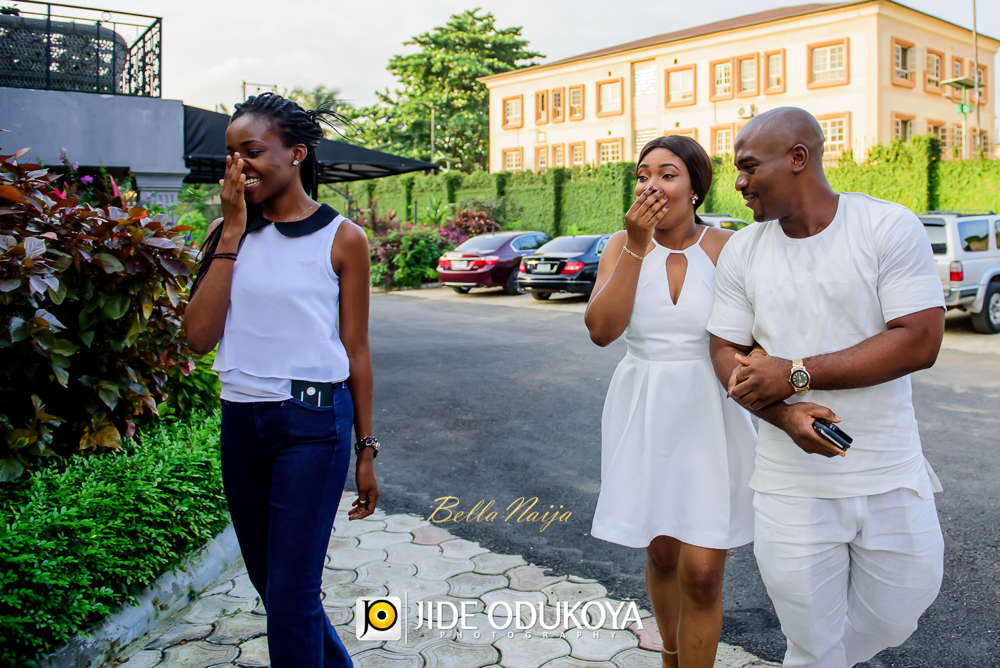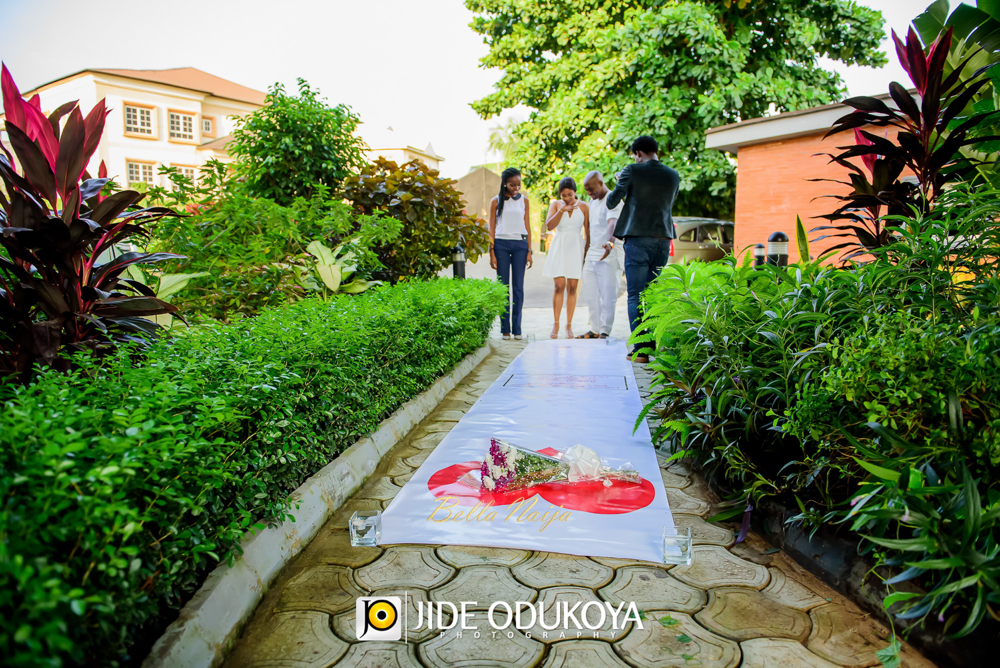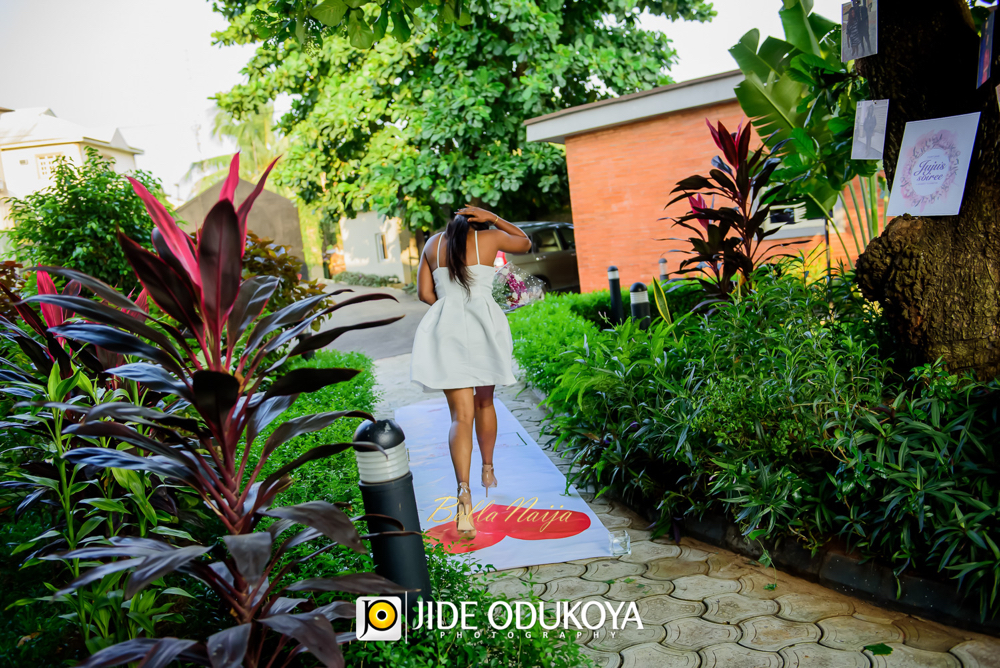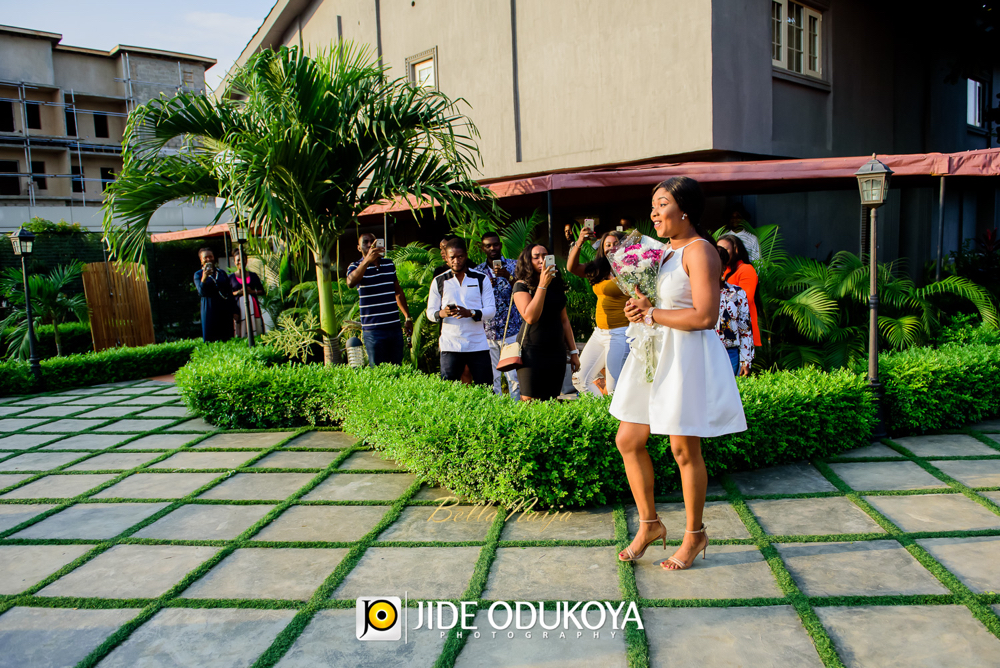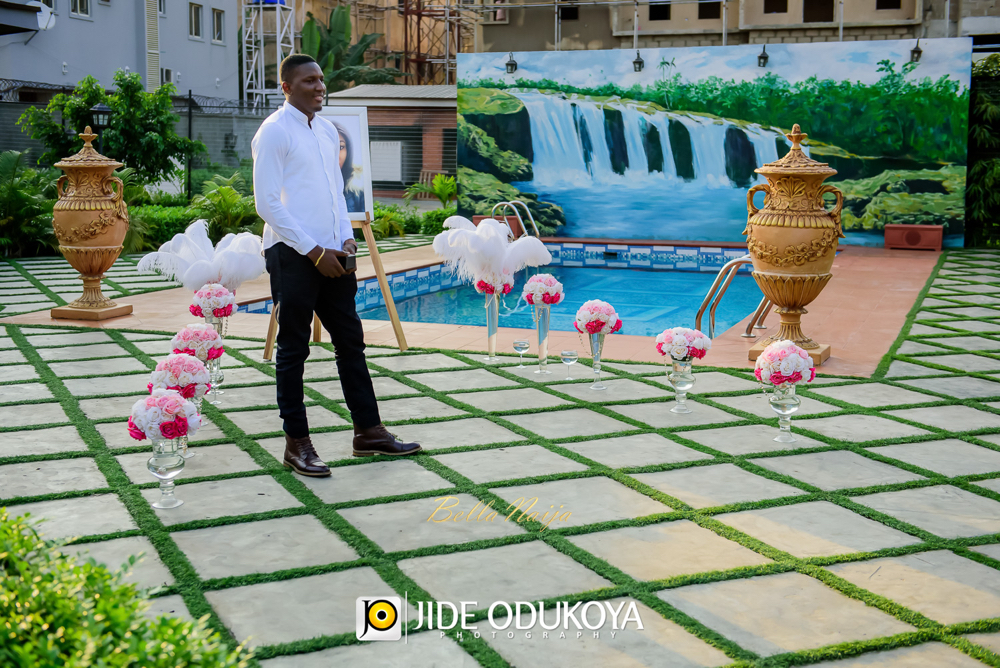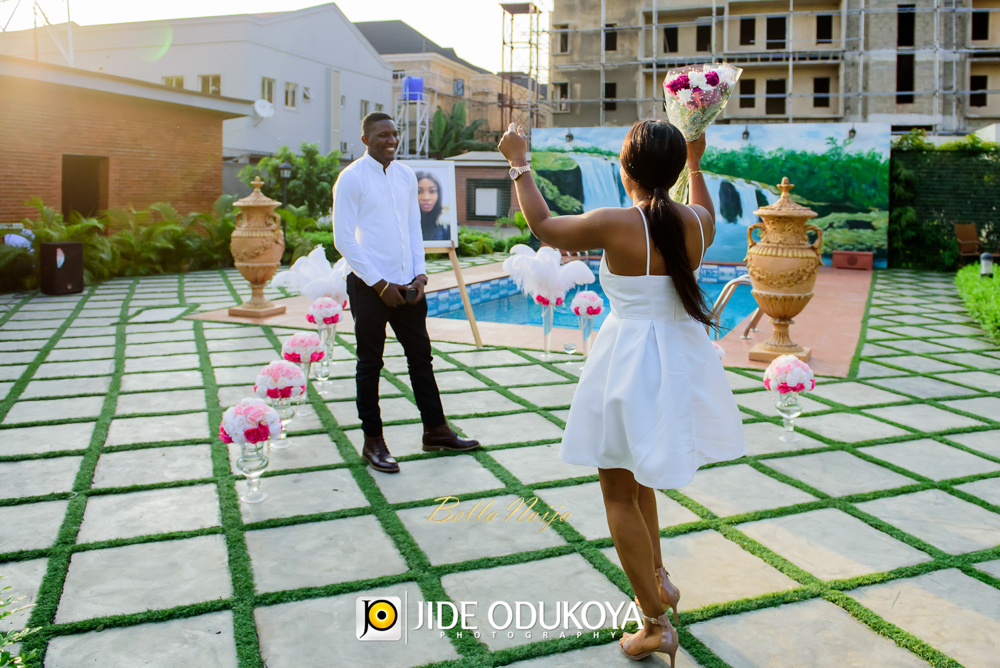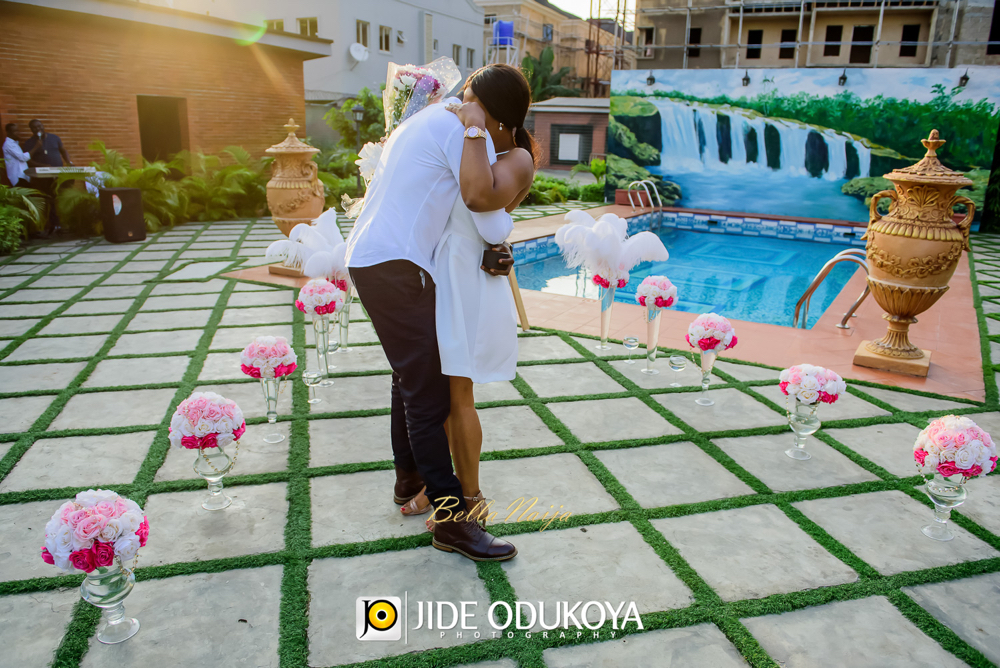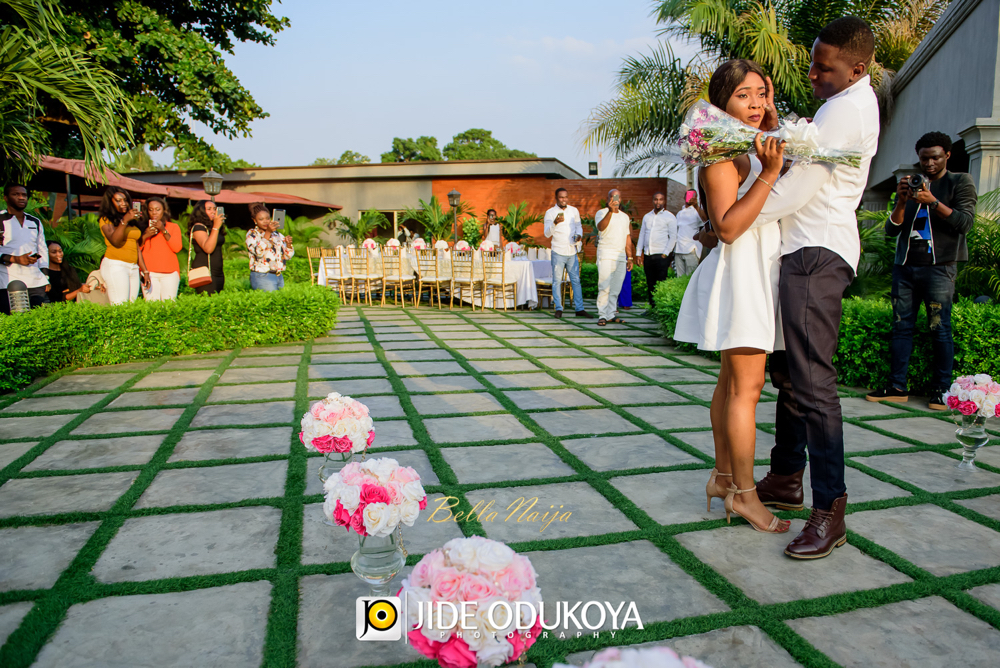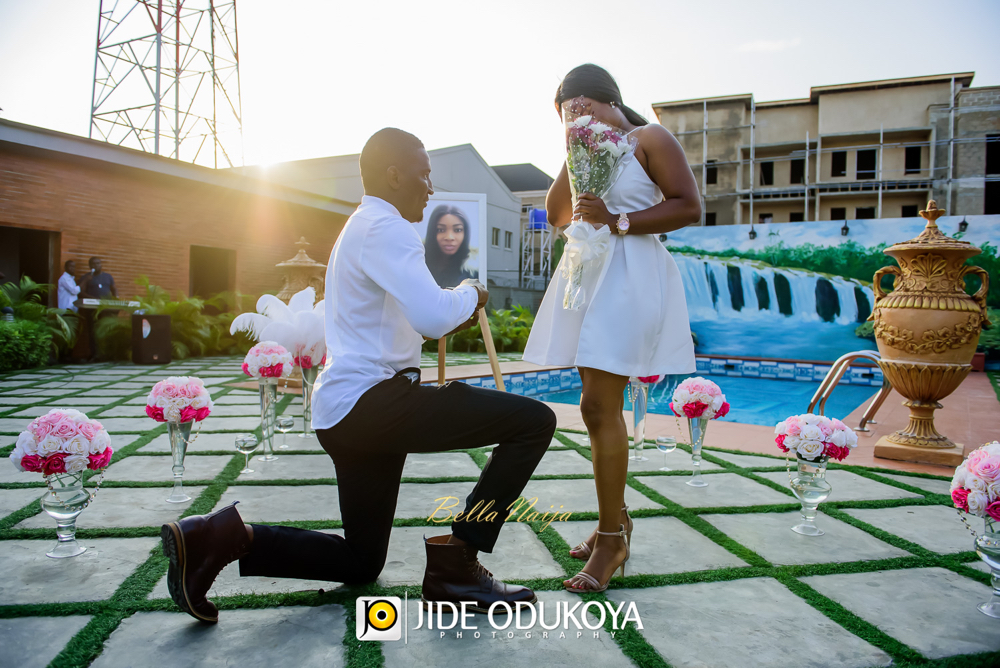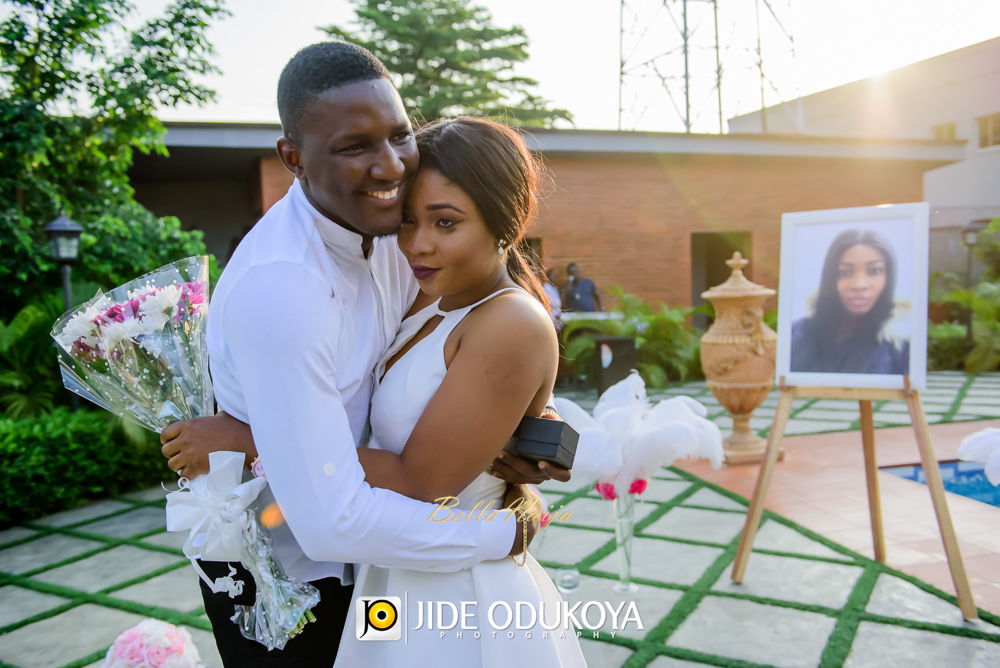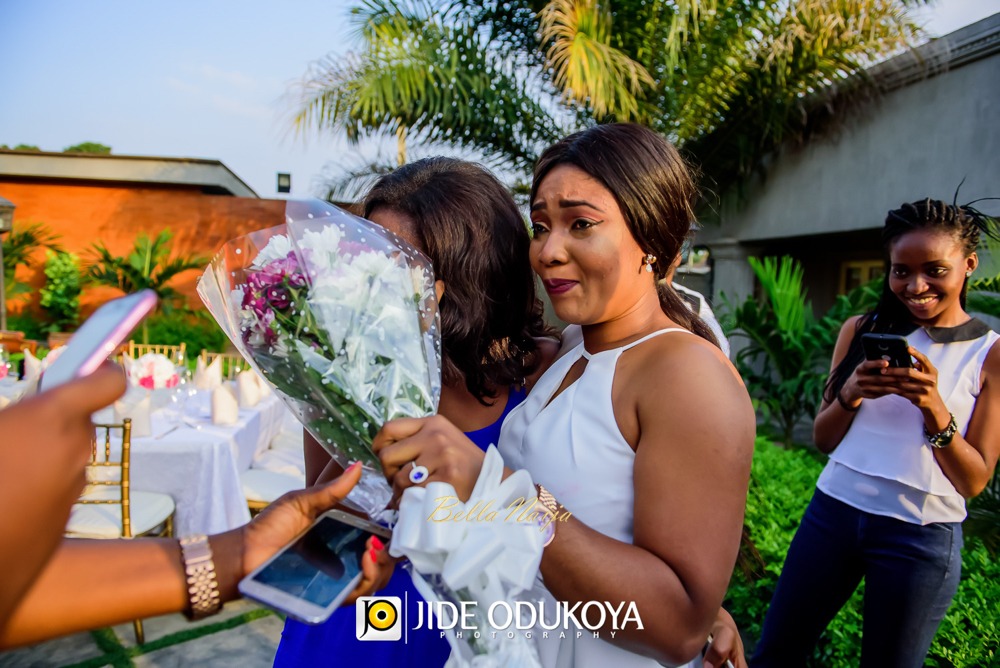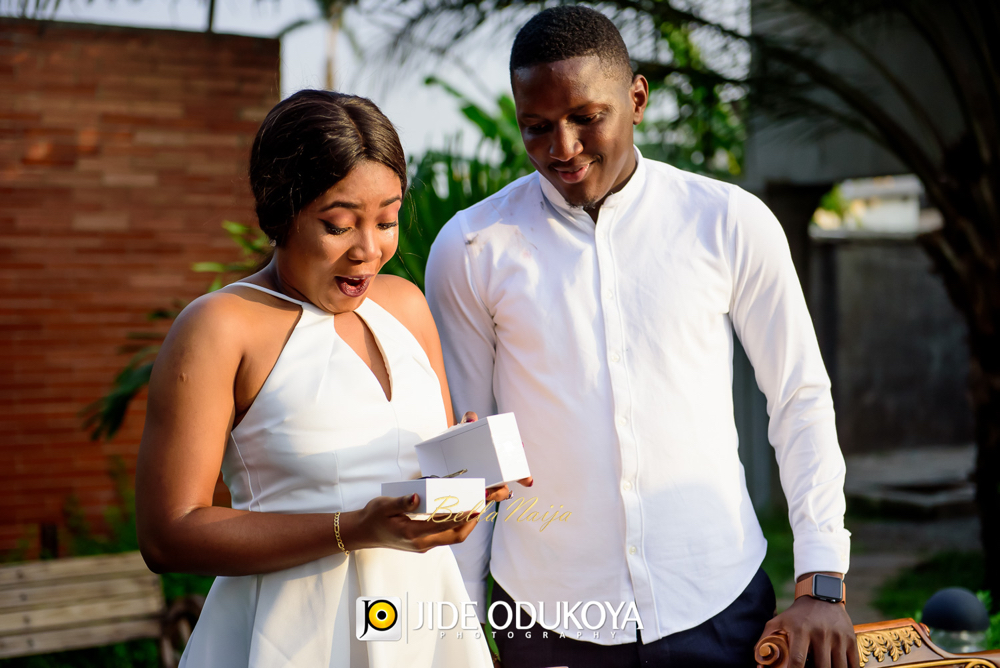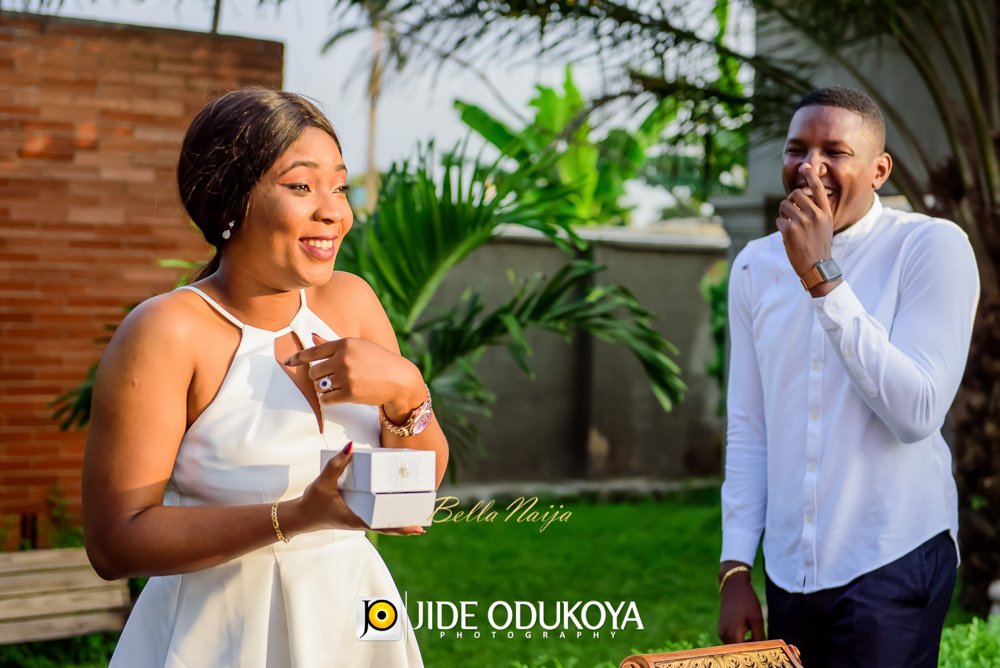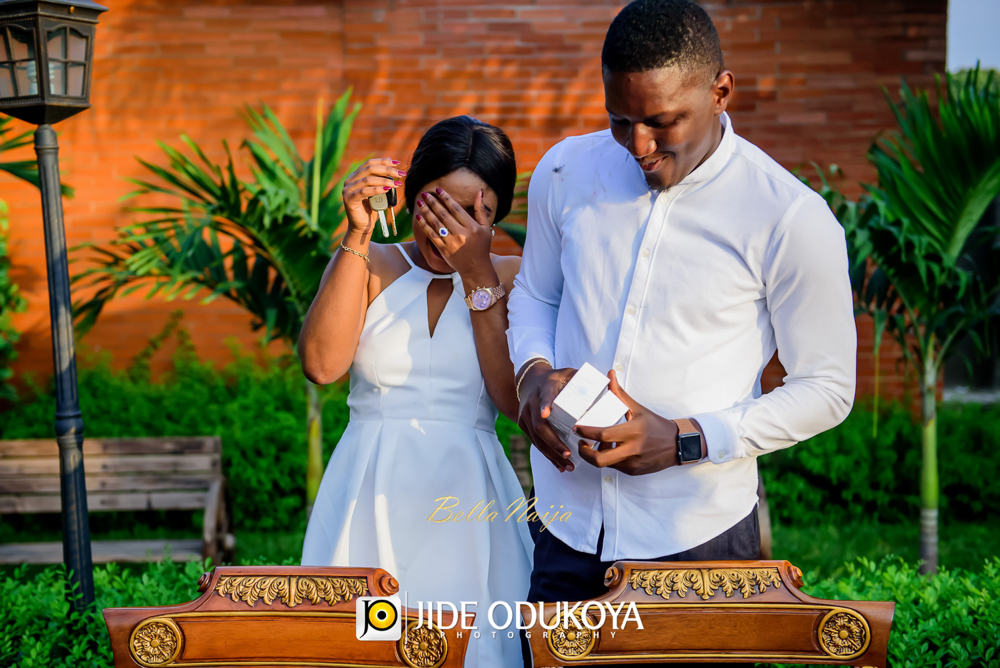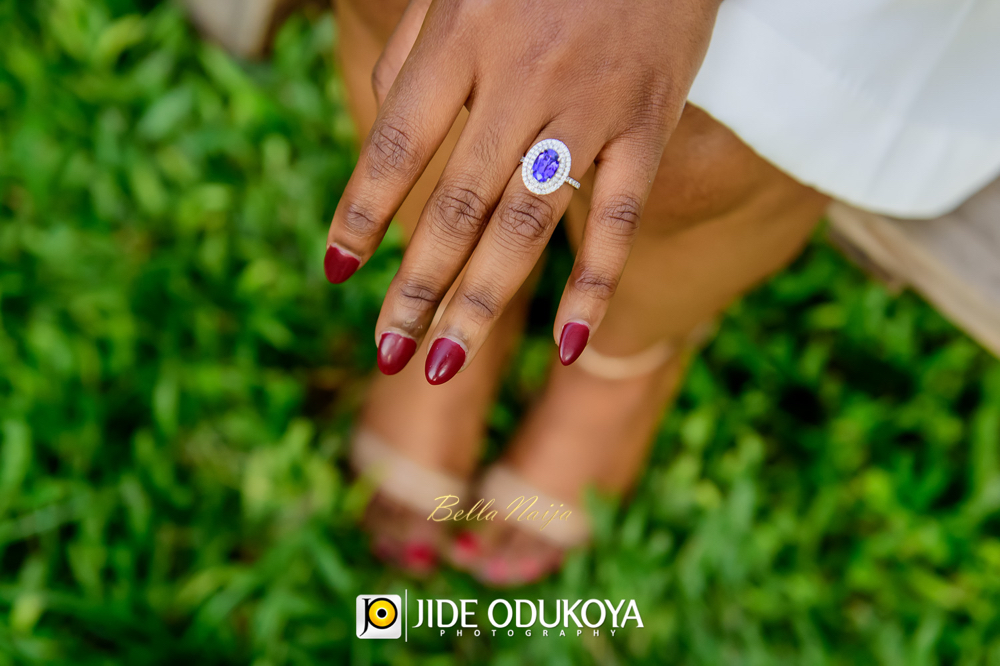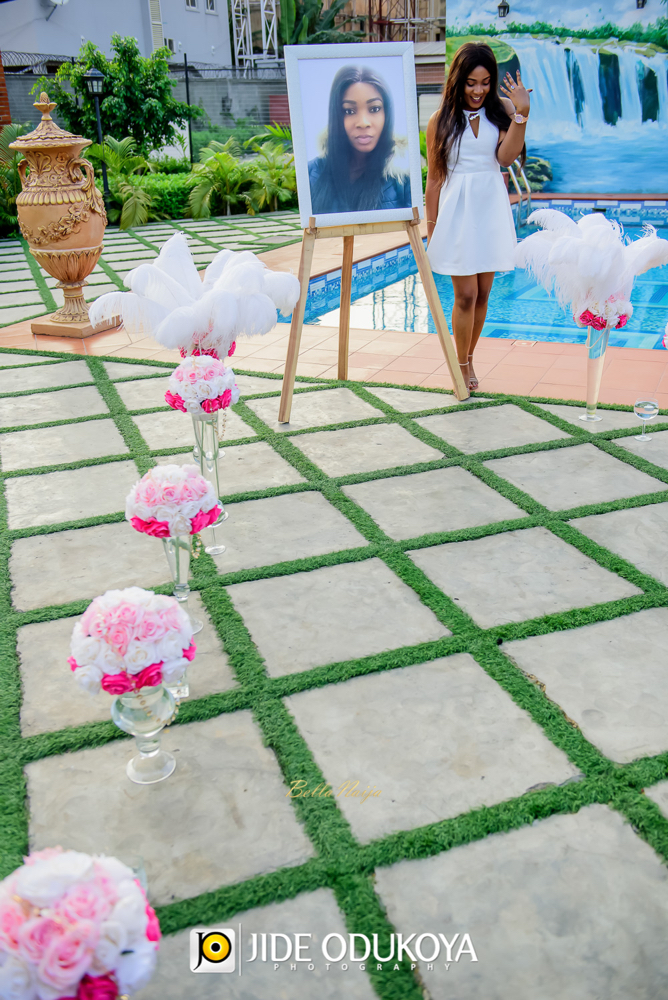 5. The surprise painting proposal (HERE)

Ilamina and Olise's surprise proposal video will make you go aww and aww and aww.
They got engaged when her boyfriend unveiled a painting of him on
bended knee with a ring at a 'Music Meets Art' event.
The Music Meets Art event was organized for every attendee to be more
enlightened about art, appreciative of music and it's components, and
most importantly, to witness Olise's expression of love to Ilamina
through a romantic, heartwarming proposal.
Everyone gave her the impression that he was only receiving a painting
award but unknown to her, she was the damsel in the painting.

Watch the video
v
6. Oyin Famodun's waiter and flash mob themed surprise proposal (HERE)
Oyin
Fomodun, a Nigerian based in Essex, UK proposed to his half
Nigerian/half Caribbean girlfriend Yemisi in grande style early this year, and the video
of the proposal has left many romantics around the world teary eyed.
The
34 Romeo surprised his girlfriend of three years in a crowded
restaurant with an elaborate set up that she would never forget. The
stunt – which was captured on video – involved him putting on a
prosthetic nose, wig, a beard, layers of make-up and a pair of glasses
to disguise himself as an aged waiter.
Oyin, after the makeover
He also filled the entire restaurant with actors for an all-singing, all-dancing flash mob.
The
video starts with Yemisi sitting with two friends in Gillray's steak
house, London, before Oyin disguised as a waiter deliberately
'accidentally' spills water onto their table and soaking her in the
process.


Of course Yemisi was agitated by the waiter(Oyin) who
acted oblivious to his actions. She then….
The effort Oyin put into the whole proposal is just remarkable
The video:
7. She got two rings (HERE)
Proposing can only be done once to your partner, so Mr W. Olaniyi
decided to make it special for his bae, Funmi Olokede by proposing with
two rings.
They got engaged on January 1, 2016!
Narrating the history behind the two beautiful bands, the newly engaged soon-to-ber bride, said "The
1st little one is a gold and diamond gem.. He said he got that bcuz I
love originality?? While the 2nd one is a sliver with a blue
gem??… He added that am a lover of blue and I love em bogus
???… In his words, Baby pick one of the Rings and be mine
forever… And I replied Yes! Yes! I want BOTH babyyy ( Oliver twist
attitude)??"
Aww!
8. Photoshoot turn surprise proposal
For one lucky woman, what started out as a romantic photo shoot turned into the beginning of her life with the man she loves.
After four years of dating,
Kornelius Bascombe cleverly crafted the perfect proposal to girlfriend,
Rachel Jordan, by setting up a mock photo shoot that left her nearly
speechless.
In the video posted to YouTube, the
CBS producer broke down the months-long preparation behind his
ingenious surprise engagement which began with him contacting a blogger
who previously worked with his lady love to set the scene of a dreamy
photoshoot.
In conjunction with Signal 13
Productions, the pair posed for photographer Myron Rogan using the Los
Angeles skyline as a backdrop (with a helicopter for a prop!) atop the
Citibank building. Midway into the shoot, Myron then instructed Rachel
to spin around and toss rose petals for an action shot. Unbeknownst to
her, Kornelius was on bent knee behind her holding a ring.
Video:
9. The church proposal (HERE)
Lovebirds Isaac Oladipupo and Boluwatife Oluwasuji got engaged in January at the Daystar church in Lagos. Isaac popped the BIG question
after the church service and Bolu said Yes.
'Once in a lifetime, someone walks into your life and everything
changes. That peaceful decision to follow my heart remains one of the
best I've ever made. Love you a million years plus more" Isaac said while Bolu said "I've
actually been looking for the best words to caption this…until this
morning! Here it is: GOD HAPPENED TO US!!!! #Gracefoundus
#GodinspiredkindofLove #iamengagedtomybestfriend #weareateam
#Godsgotthis #Godsgotus #hefoundmewhilewewereserving
#GodrewardsHissonwithHisdaughter ??? #lovethatmakesyoubetter
#Oluwapawalerinayo #manwhoseheaddeyhinneck lol
#okayicouldgoonandonandon My perfect gentleman aka God'sman. Here's to
an amazing and titillating #titilai with God as our Most Senior Partner!"
10. Doyin and Tolu's surprise proposal
Adedoyinsola and Tolu got engaged weeks ago after dating for about 4 years.
Tolu who was based abroad had planned with the help of Doyin's friends to organize the surprise proposal in an hotel in Lagos.
Doyin got to the venue as planned by her friends only to find that her boyfriend was back from the states.
The video
11. Wedding Reception proposal (HERE)
Busola really wanted the bouquet and it came to her, and then she got more, her Man proposed and she couldn't stop crying!

Video;
12 Proposal on the Fashion show runaway

Johnson Iyaye Rotimi, designer behind menswear brand Johnson Johnson, proposed to his girlfriend Beata, at Heineken Lagos Fashion & Design Week 2016 – and she said yes!
The proposal came after the designer's runway show. While taking his finale walk with
Ric Hassani
singing his song
'Gentleman,'
Johnson singled out his girlfriend from the crowd, brought her on the
runway – a vision in blue, he got on one knee and popped the question.
See videos and photos of the proposal below.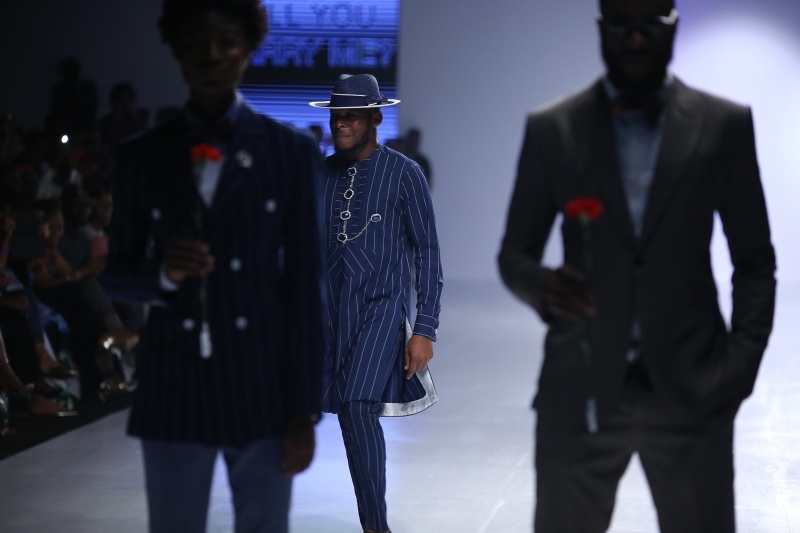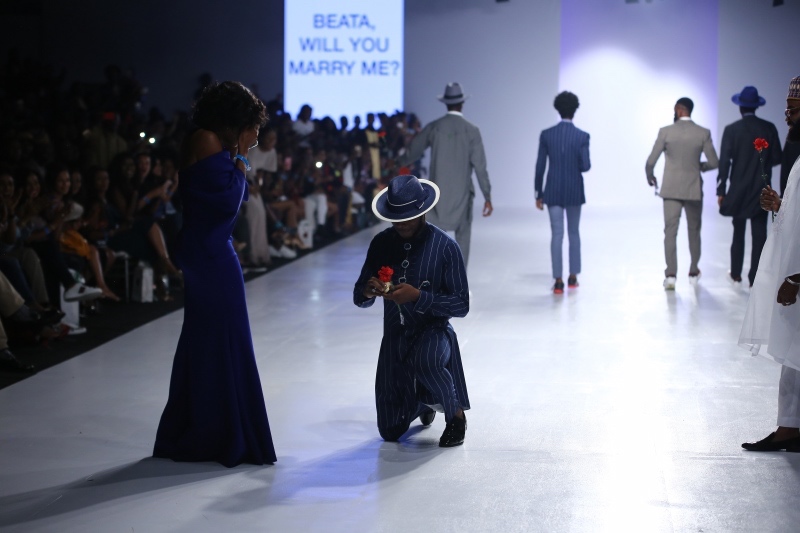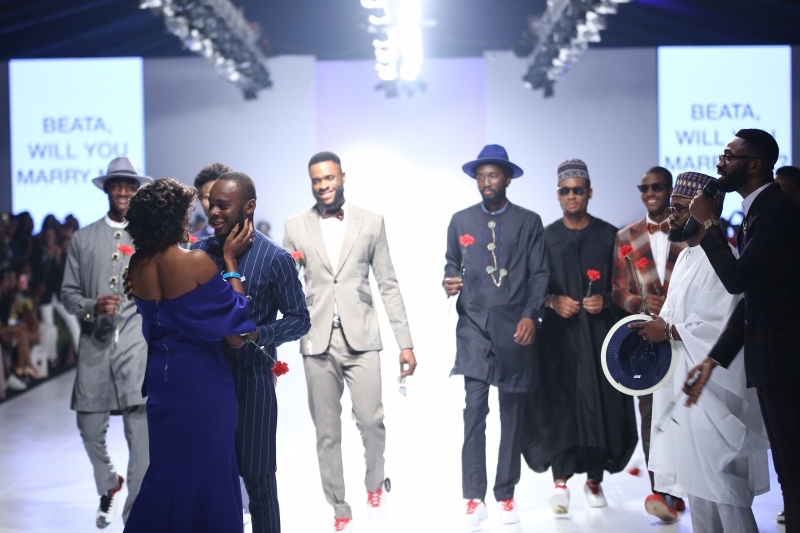 Video:
Part two
Dear 2017 grooms, the pace has been set!
Photo credit: Kemi Filani Blog, Bellaniaja weddings, Instagram and Facebook!
Toyin Aimakhu dated Seun Egbegbe. Credit: Various
Over the past five years, we've watched Toyin Aimakhu
rise to the peak of her career in the Yoruba movie scene that presently
boasts some of the biggest stars in Nollywood. BUT, the last 365 days
have not been inspiring.
First was the time she left her matrimonial home of two years, then she fell in love with the wrong man, Seun Egbegbe, and now, she's in the news for the wrong reasons.
Toyin
Aimakhu was on Monday July 8 2013 joined with her fiancé, Tinsel actor,
Adeniji Johnson at the Ikoyi Marriage Registry, Ikoyi, Lagos.
Toyin separated from her ex-hubby, Adeniyi Johnson over allegations of infidelity a few months to their second wedding anniversary in 2015.
...