News
A Movie Review: Sika Osei and Blossom Chukwuejekwu will give you a reason to love again in 'A place called Happy'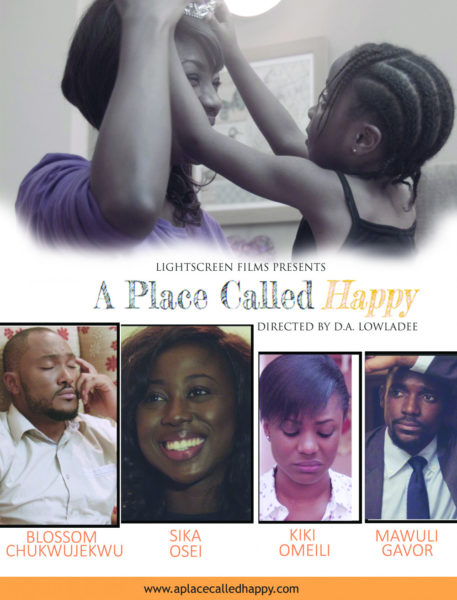 A Place Called Happy (2015)
Cast: Blossom Chukwujekwu, Sika Osei, Kiki Omeili, Mawuli Gavor
Director: Dolapo Adeleke (Lowladee)
Synopsis: Fate takes two strangers,
Abena Aseidu (Sika Osei) engaged to be married and Dimeji (Blossom
Chukwujekwu) who is on the verge of a divorce, on an unexpected journey
that will change their lives forever.

Review:
Filmmaker, Lowladee has done it again!

A few months ago, I watched her short film,Brave and reviewed it
(HERE
), now she has released another brilliant movie!
Before I proceed, I must commend Sika Osei, She is gooooooood!
She is a delight in this movie
and at a point in the movie, one could have sworn one was watching Kerry
Washington because they share similar facial expressions.
All the characters from Mawuli Gavor who played Sika's
'sexy-but-always-busy' boyfriend to Omowunmi Dada who was the typical down-to-earth,
tell-it-as-it-is best friend, to Blossom who embodied the character of Dimeji
so well and others gave a 110% in their performances.
Abena (Sika Osei), an aspiring writer,
had been tolerating Kwames's (Mawuli Gavor) neglectful ways. The two
had been dating for six years but over the course of their courtship,
Kwame constantly put his job first and stood her up numerous occasions.
But his love for her seemed genuine and when he finally popped the
question it presented a fresh start for them.
To compensate, Kwame took Abena on a
trip in order to spend quality time together but Abena woke up in the
hotel room to an empty bed. Kwame disappeared and Abena later learned
that he traveled to Kenya on business. He didn't consult her about his
plans and Abena was infuriated. It was the last straw for her and she
broke up with him.
Another couple, Dimeji (Blossom
Chukwujekwu) and Dole (Kiki Omeili) were on the brink of divorce because
they couldn't let go of a tragic incident from their past. Stress
provoked Dimeji to leave town and he coincidently booked the same hotel
room that Kwame and Abena exited.
Abena and Dimeji were two people that
needed someone outside of their relationship to talk to and fate brought
them together. They were strangers that confided in each other while
their significant others were left to their own devises to reconsider
their actions.
It is not the usual everyday Nollywood movie storyline, this was refreshing..at first it was predictable but the ending took a new twist.
This movie had a great cast, great story
and perfect length. It was just about an hour, it was so good that I didn't want it to end!
The sound, cast, background music, lightning and everything was on point!
I particularly loved the chemistry between Blossom and Sika, they make friendship and loving so beautiful.
Over all, the movie that teaches about friendship, love and knowing that no
matter how sad you are at the moment, you can always go back to your
happy place. It demonstrated that we don't
always have to buckle to temptation and act on an attraction to someone
outside of our relationship.
You can watch the trailer (
HERE)
.