Olumide
Oresegun recently stormed the social media with his mind blowing piece,
Hyper-Realistic (
HERE)
. The young man's art works are astounding, breath taking
and alluring. He believes so much in the use of water to give
translucent effects on his paintings. He creates art work that are
unique and haven't been seen before.
ENCOMIUM
Weekly had an interview with the 35 year old creative artist on
Saturday, March 12, 2016, and he talked about many issues, including his
forthcoming exhibition, wedding plan and much more.
How do you feel about your painting gaining huge attention on social media?
I really want to thank God for taking me this far. I can't just thank Him enough. I'm so happy.
What does painting mean to you?
It's a passion. It's something that I have within myself, my lifestyle, so I can tell you it's in me.
What stands your designs out?
When
you are doing a particular work, which has not been encouraging, all
you need is to keep pushing till you attain your desire. The zeal and
passion with hard work are the things that stand me out.
What do you cherish most about your drawing?
Every
day I get to learn new things, I don't stop learning. I love to acquire
knowledge. The fact that everyone around me appreciates and encourages
me to do more are the things that I cherish most.
How did you feel being a celebrated artists right now?
I
feel honoured. I must say that it makes me feel great because this is
something that I love and I have been doing over the years and all of a
sudden, I got celebrated even up to international standard. It's
amazing. I think that's happiness.
How did you start out as an artist?
I
actually went to Yaba College of Technology to study Art, just like any
other field. I know what I want and I have been striving hard to be a
recognized artist.
So, can we say you acquired it or it's a special talent from God?
It
has been a talent from God right from my childhood, but I just needed
to acquire more skills to develop the talent God has deposited in me.
Everyone has his/her own gift from God, but as much as we can develop
the skill to exhibit the talent makes one better.
How did you develop it to have attained this level?
Let
me just say it has been the Lord's doing. In as much as I have been
passionate about my work, God has really helped me to where I am today
and I believe He is still taking me to a higher ground.
What does it take to be good a artist?
Being
a good artist has a lot to do with passion. To achieve a unique,
attractive and good looking painting, one must be passionate about the
job.
How many years have you been in the career and what has been your experience so far?
I
have been painting from my childhood, but I have been working
tirelessly in the last 8 years which is the major experience I have so
far.
What are your peculiar challenges as an artist?
One
of the major challenges is financial instability, I believe every
artist has faced it but I just don't have to let that draw me back. I
have been going through financial challenges while I was still in school
(Yabatech) and it was even tough after I graduated. But I'm happy to
tell you now that I have overcome those challenges.
Have you taken your drawing outside the country?
Yes,
I have had a couple of exhibitions outside Nigeria, some are
outstanding. As I speak to you, in Germany, Brazil, France, etc. So far,
I had a successful exhibition in Nigeria at Midrin Art Gallery in 2011
and 2014 and I'm already working towards the third one. When I have the
venue, date and every other information, I will let you know.
What inspires your painting about children playing with water, the village setting and natural painting methods?
I
have so many things that inspire my painting. When I look back, a lot
has happened. For me, the best way to say what I feel within myself is
painting. You will agree with me that life is full of ups and downs.
Some are happy, while others are not. In my own case, I have learnt to
collate all these experiences to do my painting.
What does the water you often use in your drawing denote?
Every
human being makes use of water everyday but I feel we don't get to
appreciate water enough. We use water every day and we can't do without
water, this is why my painting tends to look beyond how people see
water.
Which is the most expensive drawing you sold?
I can't really say because I have done a lot of drawings and they were all appreciated worldwide.
What is the average price of your drawing?
All
I can say about that is that I don't have an average price, but my next
exhibition will reveal all you need to know about that.
How long does it take to complete a painting?
It takes a month or two, depending on how you want it.
Tell us about yourself, family, marriage…
I'm
the second born in the family of four. I have three brothers and I'm
happy to tell you that I will be getting married in couple of months. My
life is simple as you can imagine.
Tell us about your bride to be?
I think that is personal, let's leave that for now. When the time comes, you will know.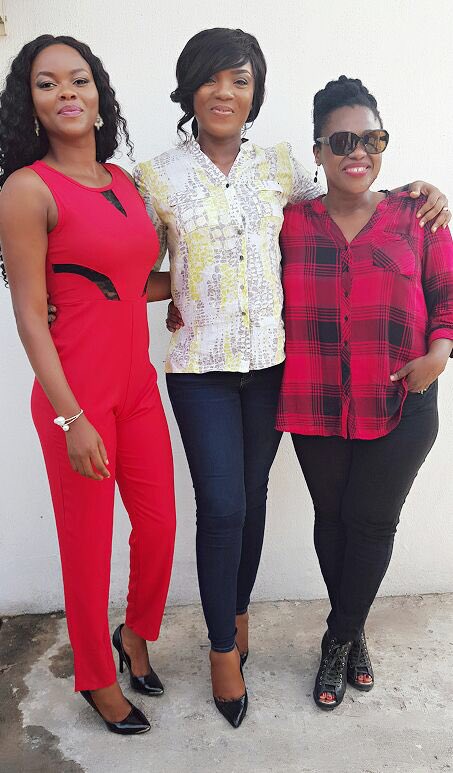 Nollywood screens divas, Uche Jombo, Chioma Akpotha and Kehinde Bankole in a recent interview by Broadway Africa TV, were asked if sex blackmail still worked in Nigerian marriages and how they can advise women to get favours from their husbands without introducing sex blackmail.
Chioma Akpotha responded by saying that she feels there are other ways one can get something from one's husband, she said sex blackmail is a very wrong move as it could result into something one can no longer handle. She added that the silent treatment might work instead of using sex blackmail. She further advised that submission will go a long way to get whatever any woman wants from her man.
Uche Jombo said she feels sex blackmail does not work in marriages anymore. She added that, sex is very important...