For
our newbies, the KFB foodie talk column
– handled by Dobby of
Dobbysignature
– is basically for ladies and
'guys' that are interested in learning how to cook better ;).

We
have however got a guest for today's food lesson – Media personality
Matse Uwatse Nnoli to discuss how to make Garri Jollof.

I remember long ago when I was living with my grandma, she would rustle up quick meals for little hungry me. Dabaiye
as she is called has a soft spot for me. She can do anything for me.
She is the best judge of my character, knowing me inside out.
When cooking in the kitchen she would offer me half formed boiled
eggs from the pot containing chicken meat which I relished. If the meal
was going to take long, she would mix up chicken stock or stew with
garri and offer it to me. Ever had chicken stock mixed with dry garri?
It is simply delicious! Trust me. Those sweet memories resurrected this
recipe, which I gave a modern touch, adding vegetables. I know she will
be proud of me, when she sees this post. Dabaiye, the woman after my
heart.
Now let's cook.

The ingredients are readily available in your local markets, so give this a try.

Dice the tomatoes, onion, spring onion and carrots.

In a pre-heated frying pan, add two cooking spoons of vegetable oil. Then pour in the onion and stir fry for 2 minutes.

Follow up with the diced tomatoes. Cook for 1 minute.

Add the dried pepper, tomato paste and stir. Then sprinkle in the curry
powder, blend in nicely and season with cooking cubes. Include the salt
sparingly because we will be using corned beef and some of them come
with a lot of salt, loosen up with a little bit of water and allow to
simmer for a few minutes.

Add some pinches of oregano. I love the subtle but distinct flavour of
this herb. Not too sharp like it's sister thyme and perfect for this
meal. Allow to cook for a few more minutes.

Now, add the carrots and spring onion. Leave over heat for 2 minutes. we want them nice and crunchy.

Finish off with the corned beef, blending it in, then turn off the
cooker and allow the sauce to cool for a few minutes. Adding the garri
to a hot sauce will give you something close to Eba and we don't want
that. Abi?

In another bowl, pour in the garri and sprinkle in some cold water,
while using a fork to fluff it up. Don't add too much water please or
the result will be very soft and a not nice Garri jollof. The picture
above will guide you.

Now, gently add the garri to the sauce in bits while mixing it together
until you get your desired result. You can discard the left over garri
when you have gotten your perfect blend.
You can serve it with stewed meat, fish, boiled or fried eggs. Enjoy!



Whoosh, so many celebrity babies this year...wouldn't it be awesome if she delivers a set of twins like Uche Pedro of Bella Naija, Nadia Buari and TY Bello!
After being married to hubby medical doctor, Dr Ivara Esege (Nigerian, American and British), for several years now, 35 year old Chimamanda Adichie is finally pregnant.

According to
BN,
the author has been spotted around Lagos with her 'baby bump', (she was recently in town for the
Farafina
workshop). Attendees report seeing the award winning novelist with tell-tale signs of pregnancy.
Last night, she was also seen by
Bizzle Osikoya
on a Virgin Atlantic flight, with her visibly puffy cheeks, a tell-tale sign.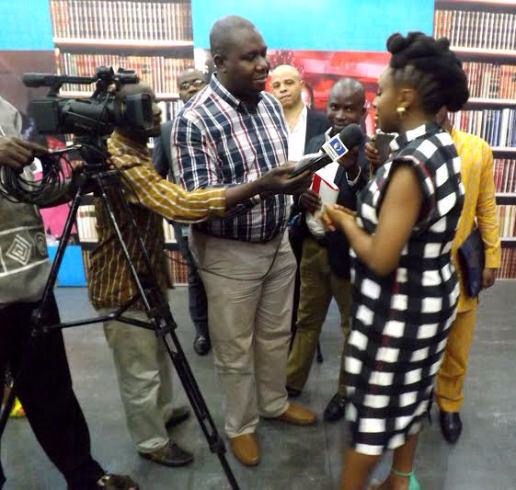 We are just so happy for Chimamanda, whoosh!