News
KFB Movie: 'One Last Word' Uti Nwanchukwu should never play the role of a Doctor again…phew!
Have I ever mentioned how much I love Majid Michel for being so handsome? Well, he has now worked hard enough to get himself into my list of favorite actors.
Truth be told, I bought this movie 'One last word' because of him, though i didn't expect much from it. Surprisingly, i ended up being impressed – hey, but there were lotta errors, can't believe Desmond Elliot, the director let those errors fly!
Cast: Majid Michel, Eucharia Anunobi, Dabota Lawson, Uru Eke, Uti Nwachukwu
Director/producer: Desmond Elliot
Production year: 2014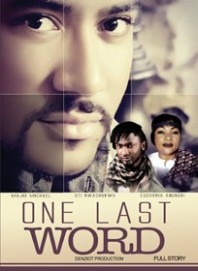 To start with, the movie title did not in anyway fit the storyline, and then the narration at the cover of the movie was totally different from the main story, phew!
Storyline: A popular movie director, Majid Michel is torn between three loves, his work, bratty
finance and mother, Eucharia Anuobi. When his mum is diagnosed with a terminal disease,
he is forced to re-evaluate his relationships.

Let's deal with the cast: Dabota Lawson was given a waka-pass role and her acting wasn't even impressive, someone else could have played that character.
Uru Eke earned my respect. I have never seen her in any movie, but her acting in 'One last word' stood out, she is damn gooooooooooooooood.
Dabota Lawson, Desmond Elliot, Majid Michel, and Oby Okafor
Eucharia Anuobi was fair enough, she hasn't lost her acting mojo but she is really starting to age, plus she still carried that her signature eyebrows into the movie, durr.
Majid Michel was simply awesome, i particularly loved the scene where he challenged his mum for lying to him, it was a mix of emotions, he screamed, cried…i still remember his words "It is my job to fool people and not people fool me"…that line was totally on point.
As for Uti Nwanchukwu, whoever cast-ed him for the Doctor role did a terrible job….Uti looked too un-serious to pass for a Doctor, even a friend who joined while i was seeing the movie half way had to say "this one doesn't even look like a Doctor, he looks so unserious"….they should have let someone with a more serious look play the role.
Eucharia Anunobi, Dabota Lawson, and Oby Okafor
Uru Eke and Majid Michel
Eucharia Anunobi and Uru Eke
Uru Eke and Eucharia Anunobi
Review proper:
Jide (Majid Michel) spent the majority of his time creating a name for
himself as a director in Nollywood while his relationships with his mum
suffered. He only had time for his live-in girlfriend, Uru Eke and he hadn't seen his
mother in years.
It wasn't until he was told that his mother was dying from
cancer, that he made an effort to spend time with her.
It turned out that there was a mix-up at the hospital and Jide's mother
learned she wasn't dying at all.
Instead of telling Jide the truth she chose to
bask in the attention she was receiving from him. She continued the charade
while he believed he was losing his mother. The longer she played the game the
harder it became for her to tell him the truth.
The subplot centered on Greg (Uti Nwachukwu) who was the doctor that
delivered the fatal diagnosis to Jide's mother. Greg's girlfriend was the nurse
that confused the lab results and in addition to issues at work their personal
relationship had its problems.
The movie also flirted with the romantic chemistry that lingered between
Jide and his assistant Mabel (Jackie Idimogu). When the two finally confessed
their feelings to each other the question, became whether they could actually
become more than friends.
You see, the relationship between Jide and his mother
wasn't enough to make an entire movie so the balance of the story centered on
the subplots which is forgivable. But by the end, there were new romances between the characters…and i'm like, from where to where, when did this love start?
Just when we thought Jide was finally
going to get a woman who seemed to be the perfect fit for him the writers went
elsewhere.
I was confused.
The twist at the end was just incredible and out of place.
Also, the core of the story which revolves around a grown woman who pretends she's sick just to get the
attention of her own son was immature to say the least.
There were other several errors like the scene where Jide was chatting with his female producer, he replied her pings saying, 'Can we go for a drink? and she agreed! …Go for a drink at that time of the night? We were even made to believe that it was past midnight so why would a normal human being leave his house at midnight just to go on a date and to make matters worst, he left his phone!
Please who does that, you know your girlfriend is home, yet you forget your phone right in front of her on the table…ah han! And then, the so-called date also came out at that time, say 1am all dressed up with jewelries, really?
Oh by the way, there were a few lessons to learn:
You do not have to wait
until someone is about to die before you show them how much you love and
care for them… and ladies, please be respectful and nice to your mother-in-laws, it helps.
With all of its noble intentions "One Last Word" wasn't exactly boring, it impressed me enough to watch till the end BUT it's not something ama watch again, nah!
You can watch the movie (HERE) on Iroko TV.