One Miss Adekemi Faboro, who teaches at a private nursery
and primary school, in Ojota, is dead. She died last weekend in Ogba
area of Lagos while on a date with her married Facebook lover,
Christopher Ezekiel, for the first time.
PM news reports that Ezekiel, a father of two, who happens
to e an engineering staff of an electrical company based in Shagamu,
came from Ibadan, Oyo State, to visit Adekemi in Lagos State, for the
first time on the fateful day, after he met her on Facebook.
Trouble however started for Ezekiel, when Adekemi started
coughing severely at mid night in her home, at 5, Folorunsho Street, off
Ajayi Road, Ogba.
And when the situation was getting out of hand, tenants
who suspected foul play, rushed her to Ifako General Hospital where she
died.
Ezekiel was subsequently arrested by the police at Pen
Cinema Police Station while the corpse of Adekemi was deposited at the
mortuary for autopsy.
The cause of her sudden death is yet to be ascertained.
A few years ago, one Cynthia Osokogwu, the daughter of a
retired miliitary officer, was allegedly lured to Lagos by her Facebook
lover, drugged, raped and murdered in Festac Town.
Afro pop singer Yemi Alade's Johnny charm did not work for her in Germany last night.
The rave of the moment who is currently on a world musical tour, was
reportedly disgraced at Tropical Bar, Berlin, Germany for failing to
show up on time.
Fans who arrived waited for hours and by the time she got in, they were tired of waiting and had left.
Addressing the issue in a video she just released moments ago, Yemi
Alade attributed it to an error on the part of the organisers who told
her she was to show up at 2.00 am only to keep fans waiting since 10 pm.
"By the time i got to the venue at 2.30am, half of the people present
had left and the other half were really furious. Things got violent and
my team advised me not...
Lovers of Nigerian movies must be used to seeing actress, Eucharia
Anunobi, drawing her brows (yes drawing) upwards with an arch.
Eucharia's way of drawing up her brows went on to become a trademark she carried for years.
Even when she became an evangelist, the brows stayed, however, she surprised everyone last night.
Since Eucharia Anunobi's new look emerged at an event last night, she
has been showered with praises as many agreed she has never looked this
good in a while.
...
Aisha Buhari and Dolapo Osinbajo seem to have caught the campaign fever too.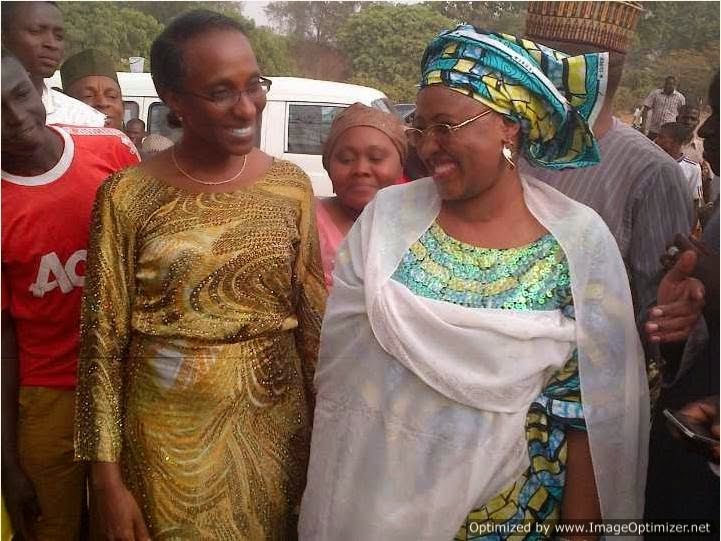 These two were spotted over the weekend spreeing Suya and Akara spots.
Better late than never right?
However, rather than taking to unscrupulous statements, they have resorted to showing off how good they are in mixing with people and showing off culinary skills.
See photos below
Nice move! Women belong to the kitchen right?
Hard as they try, their counterpart seems to call the shot on this turf.