News
KFB Movie Review: So I watched Ini Edo's newly released 'While You Slept'…was I impressed?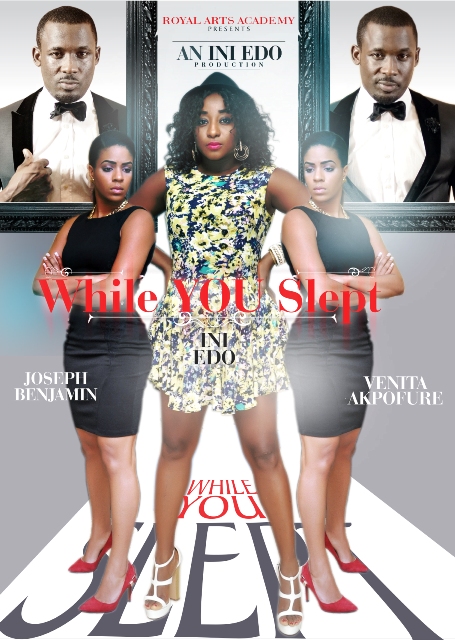 Last week, actress Ini Edo premiered her new movie 'While You Slept' and the attendees kept ranting about how well they enjoyed it so I decided to see it for myself this week.
I got into the cinema hall just in time for the movie to begin. As I scurried to the back of the of the hall to cling to my favorite seat, I found that some couple caught up in their PDA had occupied my spot. I took a deep sigh and looked for another spot.
The title of the movie easily gave up the content but all the same, I told myself, "Lemme give this a shot"
Cast: Ini Edo, Joseph Benjamin, Venita Akpofure, Bobby Michaels and others
Director: Desmond Elliot
Producer: Emem Isong
Story by: Kehinde Joseph and Chiji Vivians
Story:
While You slept is the story of a Nigerian woman Kimberly Okoro (Ini Edo) the protagonist who was happily married to Emeka Okoro (Bobby Michaels) for ten years. Emeka Okoro had a cardiac arrest one afternoon and he died immediately.
Soon after Emeka's death, his baby mama- Najite Okoro (Venita Akpofure) showed up with her 5-year-old son. The strange woman claimed to have been secretly married to Emeka and also bore him a son, because his wife (Kimberly) had had her womb removed as a result of complications from abortion. Najite presented marriage pictures, certificates, paternity test as evidence to prove that she was genuine.
Emeka's parents soon began to mount pressure on Kimberly to give Najite and her son a fair share of their son's possession. Najite also moved into the house Kimberly shared with her husband at the order of the Emeka's parents.
While Najite was plotting ways to head the Emeka's company – Marble Incorporation, Kimberly landed herself in a psychiatric home following a fight that ensued between the two women. Before long, Kimberly plotted her escape from the psychiatric home with the help of her friend and physical fitness trainer Tega (Joseph Benjamin).
After some sniffing here and there, the motive of Najite was uncovered by Tega and Kimberly.
There was a twist in the plot when it was discovered that Najite had been obsessed with Emeka right from their days in College.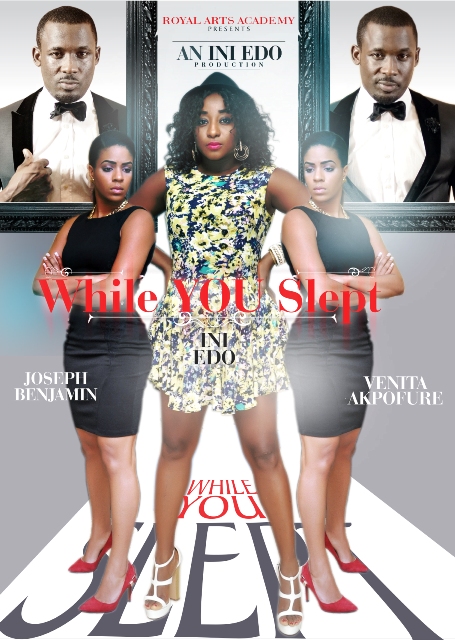 The supposed marriage pictures were taken at the set of a movie back in College. The love child she claimed belonged to Emeka was apparently not his. The child belonged to Emeka's friend who was Najite's ex boyfriend.
The picture quality of the movie and the directing was on point. Desmond Elliot nailed it. For video quality, lighting and sound track, I give kudos.
The Sound track of the movie got me dancing at some point. It lighted up the entire hall. To think that the movie was shot in Lagos actually tripped me. We don't necessarily have to go out of the country to make good movies. All we need is the right equipment.
And yea, I LOVE Ini Edo!
Ini Edo was effortless in transcending between anger, sadness, sorrow, vengeance and love. The scene where she had to slap and then beat Najite for calling her barren was so on point.
I remember almost everyone in the hall echoing "Slap her". The scene Ini Edo had to mourn her husband and literally address the camera was captivating. The scenes with Joseph Benjamin were witty and I loved them.
Er, Venita Akpofure was not all that in the movie. She appeared unreal and didn't interpret her role well. She appeared overly calculated in the movie.
There were some unrealistic and ambiguous scenes. The scene where Kimberely and Najite went to Najite's ex boyfriend movie set was not clear and also unrealistic.
In all, the movie was just there. Not the blockbuster to revolutionize the Nollywood industry.
You can watch the movie trailer (HERE)