Aww, a love that soared through the storms!
So OAP Toke Makinwa shared an epic photo last night – a throw back photo of her and hubby, Maje Ayida (then boyfriend).
"#Tbt #Epic #soulmates #kids #boymergirl #girlwasyoungandinlove
#12yearslater #whereitallbegan #lovestory #babylondays #nowwemarried.
This picture should be burnt, major Surelere. @majeayida will kill me. If someone had told me that we would be married, I would have laughed. #badboy #runsaway" she captioned the photo.
See fab. photos of the lovebirds below: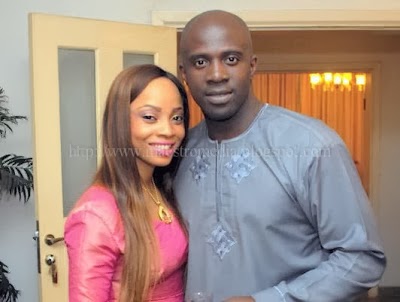 Friends of Taiwo Oshadipe – who died in the morning of Friday, October
3, 2014 – will assemble tomorrow (Thursday, October 9, 2014) for a
candlelight procession in her honour, Encomium reports.
Participants are expected to assemble at 4 p.m around U-turn area of Abule Egba (Lagos) adorning black T-shirts - since there's no time to produce customized T-shirts,
guests should wear black.
Also, the burial will be in Lagos on Friday, October 10, 2014,
at a private vault.