There is an ongoing protest in UNILAG, vehicles have been barred from going in or out, the UNILAG gate is shut, no lectures, students are angry and pissed off, visitors are trapped in the campus, we can't go out and it's so annoying!
There is a heavy traffic in and outside the school and the drivers have abandoned their vehicles….

The students are moving round the campus holding leaves and tree branches and singing "We no gree, we no gree, no more exploitation..We won't pay! We won't pay!! We won't pay!!! We won't pay!!! We won't pay!!!We go fight una…Everything in unilag is all abt money. Why??? Are we slaves….They make the School so Bitter for the Low Class students."
They are angry that they have to pay N15,000 to HIRE
their convocation gowns (for the convocation ceremony which holds next week), angry that they have to pay
N20,000 to edit their course forms online (late registration fee).

The protesting students claimed the management shut the school portal
against registration and began demanding for N10,000, which again
increased to N15,000 and N20,000 progressively in the last few days.
At the moment, there are no security men to stop them and even the few
lecturers around have shut their office doors to prevent the students
from attacking them. More details and photos coming up asap.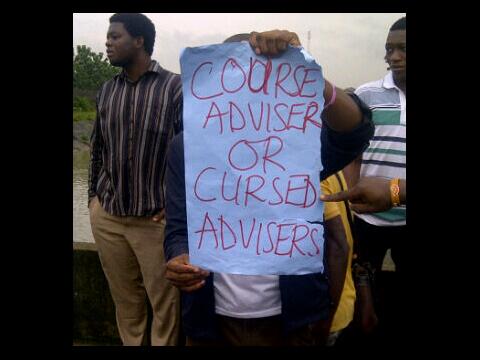 The KFB Best Friends Alert is back...drum rolls!!!
For the newbies, the KFB Best Friends Alert - where we feature top
socialites and their best friends - comes up on Thursdays.
A reader brought this beautiful 'couple' to our attention and after carrying out our investigation, we decided to feature these two - Yoruba actor, Femi Adebayo and actress, Olaita 'Sugar' Ogungbile - for this week's #BestFriendsAlert...yayy!
Life is all about celebrating
friendship,
friendship is one of the bonds that holds us together.

Olaitan and Femi met years ago on set ('Oko Mo Nife' where they played lovers)- they
have been best friends ever since....as a matter of fact, so many peeps
think Olaitan is his mistress... but Olaitan says they are just BFFs ;), moreover Femi...