I never wanted to see this movie cos i'm not exactly a fan of Yvonne Nelson but a close friend made me see it with her a few days back…so here goes the review!
Director – Pascal Amanfo
Written By- Pascal Amanfo



Cast- Majid Michel, Yvonne Nelson, luckie Lawson, Eddie Watson,
Omawunmi Megbele, Francis Odega



Genre- Comedy/ Drama
Story: Dab Ansah Williams, a high flying
entrepreneur/business mogul, polygamist and socialite, is battling with cancer
and has 6 weeks left to live according to medical practitioners. With the
help of his long time associate and legal representative, he embarks on a
mission to call all his children back home – most of whom were born out of
wedlock and various illicit affairs.
The re-union proves a little more than everyone
bargained for as each child returns with an agenda, setting the stage for the
most hilarious and bizarre 7 days of their lives. At the end, they realize that
there is just too much for too many.
Thumbs up and Thumbs Down:
Like the adage goes, too many cooks
spoil the broth. This is so true of the new romantic comedy House of Gold,
produced by Ghanaian actress Yvonne Nelson. There were many stars, but only a
few were able to shine.
Singer Omawumi plays Yvonne Nelson's
foil and the bane of her existence. Both sisters have been locked in a bitter
rivalry dating back to their childhood days.
Majid Michel plays the heir
apparent and leader of the pack, Freddie.
Ice Prince, the second musician that was featured in the
movie was a terrible actor – while Omawumi put up a spirited performance akin
to her usual witty and charismatic self, Ice Prince looked lost and clueless in
the movie.
He appeared to be too
conscious of his lines and the camera. Moreover, His song, Aboki was also part
of the soundtrack and it was played only when he made an appearance in the
movie.
Majid Michel gave the strongest
performance in the movie although his character wasn't comical like that of the
others. He played the role of the eldest son of the house in a rather mature
and believable manner.
Luckie Lawson acted rather amateurish for an actress of her calibre.
And yes, there were dozens of unnecessary
scenes in the movie – from conversations of the house helps, to the arguments
of the helps, the list goes on. What this translates to is a lack of
creativity and time consciousness.
Someone said "they just went ahead
and acted a stage play on camera and decided to call it a movie. It was like
watching a poor man's version of a Tyler Perry stage play before he turns it
into a feature film."
I could go on and count the ways in
which 'House of gold' is terrible but that would be unfair so it's best to say
that it is a bad but hilarious movie.
Oh by the way, the scene where they started
spilling each other's secrets was totally hilarious!!! #okbye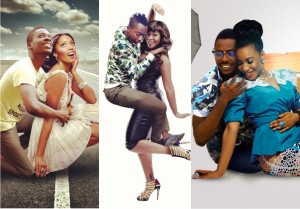 The other time it was Adekunle Gold, a Nigeria who photoshopped himself into Toolz, Tiwa Savage and Tonto Dikeh's photos.
Now there's another crazy photoshop guru in town - his name is David Zinyama, a freelancer photographer currently based in Manchester.
See his photoshopped works below: