We just had to share this beautiful story.
Michelle Obama's annual question-and-answer session with the children of
Executive Office employees took a serious turn yesterday when a 10-year-old girl
in the front row told the first lady that her dad had been out of work for
three years.


Instead of asking a
question, the 10-year-old child gave the first lady a copy of her dad's
resume. Charlotte said:

"My dad's been out of a job for three years and I wanted to give you his resume."
Then the girl popped up to hand the first lady his resume.
The first lady seemed a little taken aback but then explained to the other
children, who might not have heard the girl's comment, that the matter was
"a little private, but she's doing something for her dad." Mrs. Obama
promised to deal with the matter later.
Then Mrs Obama brandished the resume and told the little girl, "Got it!"
When the event ended, Mrs. Obama gave the girl, Charlotte Bell, a hug and
then reached back to grab the resume off a table as she left the East Room.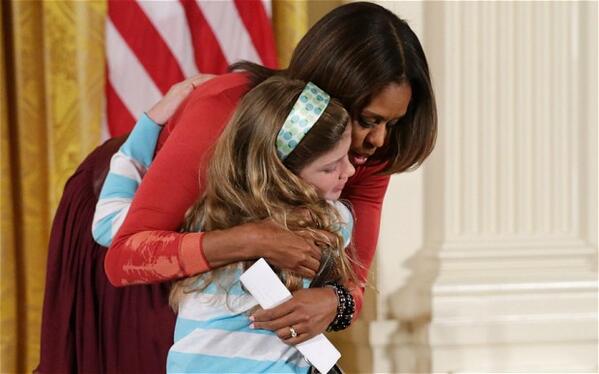 Stories we hear!
Around 9am today, a certain young woman allegedly
confessed to being a witch, after being rescued from a gutter she was trapped in
around Abalti Barracks, Ojuelegba in Surulere, Lagos.
According to reports,
a passerby had noticed someone stretching out her hand from a very
small hole in a 6ft deep gutter just in front of the Army Barracks
and calling out for help. The passerby quickly ran into the Army
barracks to get help.



Within minutes, a crowd gathered with people saying all sort of things
about the lady inside the gutter and how she got trapped...