A few months ago, it was reported that MTN project fame 3 winner, Chidinma Ekile aka Mz Kedike had quit her church choir.
According to reports, Chidinma Ekile – a member of the Choir in Foursquare Gospel Church – was forced to leave the choir due to her 'unholy' dressing.
When it comes to dressing, Foursquare Gospel church is very strict with its members and workers but following her fame and genre of music, Chidinma could no longer comply with the dress code, the reports claimed.
Well Chidinma is still in the choir. "If I hear say Chidinma no dey choir again…..I am committed to God Almighty and my church, I will serve God till death…." she said as she shared a photo of herself in her choir uniform today. See photo below:
Is that an engagement ring?!
"I have not deviated from the doctrines of my church and my
music cannot take church service from me…the church has no problem with
my career as an artiste at the same time, singing in the choir." she further told HIP TV recently
Annie Idibia sure knows how to publicly display affection.
She went on her instagram page in the early hours of today and threw the sweetest shout out to her husband, 2face Idibia. Posting the photo above, she said "Wish I could hit the replay button and relive this day over and over again...love! together forever! I'm still the happiest girl ever liveth! I feel like the only girl in the world, love so pure and real..."
Also, the excited mother who is likely to deliver on or before January 1 2014,  posted another 'beautiful' photo with the caption "Can't wait to meet you!!! Mommy is waiting......"
See photo below:
Yeah, handsome actor/presenter, Joseph Benjamin has two kids - a 10 year old daughter and a 7 year old son.
Despite being separated from their mum, he still has time to play his daddy duties.
Joseph says "They are an
integral part of my life; their mum and I have a very good arrangement
on how to balance their lives and make sure that psychologically they
are stable and unaffected by our separation. "
Joseph Benjamin explains why he separated from their mum below:
"I've been separated for a year now but we still keep
a good relationship, and our separation was a mutual agreement. She is a
good woman but I could not go on with the union anymore seeing the
foundation it was built on was untrue.
I was married for 8 years. It was a rather odd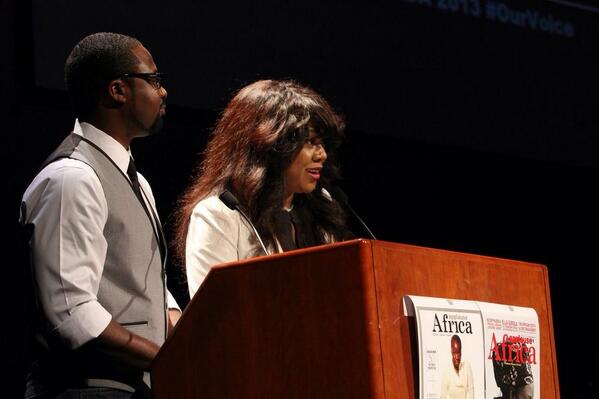 Aww, Daniel Ademinokan and Stella Damasus look so good together!
The photo was taken recently at the Applause Africa awards in New York City!
While giving her speech, Stella called out her business partner and friend, Daniel to join her on stage...how sweet!
Meanwhile, there is a funny video you might want to check out (HERE) - the 70 seconds video revolves around a white lady who was introduced to a guy's Nigerian aunt, it's quite hilarious!