Last night, Wizkid's fans in Abuja dishonored him by refusing to show up at his highly publicized, #WizkidLiveAbujaInvasion which held last night at the International conference centre, Abuja.
The show was scheduled to kick off at 5pm but was found emptytill 9:30pm when a few guests trooped in.
See more photos below: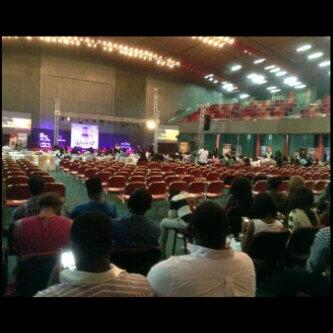 Meanwhile, Wizkid appears not to be bothered by the turn out. He took to twitter this morning to announce that he is not worried afterall "owo n wole wa" which means "money is coming in"
Ogun State Givernor, Governor Ibikunle Amosun has proven that he is indeed a man of his words. Months ago, he stated that he was going that he was going to start and complete a N59billion road construction on the Sango-Ijoko-Agbado axis - the N59 billion road contract would have street light, drainage and pedestrian side walks as well as six pedestrian bridges - well he has!

Residents woke up this morning to find buildings by the roadside marked/prepared for demolition as construction of the Sango-Ijoko-Agbado road began.
Steel
doors & windows with roofing sheets were been removed as at the time of this report.
The Ogun
state Governor personally visited the area yesterday to announce that occupants of
such buildings - buildings and shops by the road - should vacate the places as work would start Monday (2day).