I have been dying to watch the movie PHONE SWAP – missed it while it was showing at the cinemas – so you can imagine how excited I was when a friend of mine told me she had the #AMAAConsideration copy on her laptop a few weekends back. Since it's not yet out on DVD, I settled for the #AMMAConsideration copy and gawd, I didn't like it, instead I abso-freakin-lutely LOVED it!

PHONE SWAP was written by Kemi Adesoye and produced by Kunle Afolayan while the major cast comprised Wale Ojo, Nse Etim Ikpe, Joke Silva and Lydia Forson.
From the very first scene to
the last you are either laughing out loud or chuckling…it is a super-romantic comedy movie.
STORY:
Mary (Nse Etim Ikpe), a much used and abused, but talented tailor,
was very happy when her boss decided to pay for her flight to Owerri
where she had to attend to a family emergency. Akin (Wale Ojo) on the
other hand plans to play another one of his 'one-upmanship' games on his
colleagues who had never liked him because he was not a team player.
They planned not to tell him about a retreat in Abuja where they were to
meet the new major shareholder of the company. Unfortunately for them
their plans failed because Akin had a major-domo who was also a
wonderful spy on his side.
At the airport the Mary and Akin bumped into each other due to the
fact that Mary was so excited by being in an airport for the first time
in her life. In the process of gathering their stuff after the collision
the two of them got their blackberry phones mixed up. That was the
beginning of a life changing journey for both of them.
Oh by the way, both Mary's friend at work and Akin's assistant are both named Alex so
texts coming and going from each go undetected even after they have
switched phones.
The devices used to acknowledge the swap is the ring
tone of Mary's phone. When Akin first hears it he thinks its someone
else's until he discovers the strange tone is coming from his pocket, lol.


Truth be told, I was impressed with the camera
shots; they were beautiful and the transition from one scene to the next
flawless. The movie
was so well shot that it can proudly stand side by side with any film
produced in other parts of the world.
The part that has stuck to me was the way the fight scene between
Akin's ex-girlfriend and
Mary, was interwoven with the fight scene between Mary's ex-boyfriend
and Akin. I also loved the scene where Akin was forced to eat the fufu and vegetable stew in the village, it all looked so real!


Every character in the movie was well rounded; from Joke
Silva who played Akin's mum – a reformed drunk trying to obtain her son's
forgiveness for the way she neglected him when he was young – to
Lydia Forson who played Wale's
fiendish sot of a girlfriend and then SAKA, lol!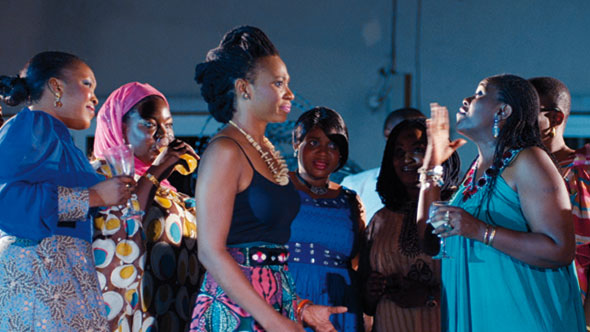 I must confess that there were one or two scenes in the film, when
you get a feeling that something went wrong, (for instance, I didn't understand how Nse Ikpe Etim ended up in a flight going to Abuja when she had initially purchased a ticket for Owerri) yet the story was tightly woven together and the comedy was not too
slapstick.
I particularly love the
way women were portrayed. For a change Nigerian women were strong, smart
and beautiful. Although the women in this film are flawed, like every
other human being, they were also shown to be inherently good and
beautiful.
Kemi Adesoye indeed delivered a well written script and manages to mix in Igbo,
Yoruba and some Ghanaian into the dialogue.
Phone Swap is full of laugh out loud
moments and shows how the most unlikely people can adapt to unexpected
situations and circumstances. A film I can definitely recommend…I LOVE IT!!! Can't wait to watch Kunle Afolayan's October 1 and i'm not gonna miss it at the cinemas this time, lol.
Oh by the way, don't be in a hurry to leave your seat once the
credits starts rolling, you'll miss out on a pleasant surprise at the
end of the movie *winks*.